Your Guide to Diving Mexico (Western)
Including the Guadalupe Island, Sea of Cortez, Baja, Isla Socorro, Cabo Pulmo, Ixtapa, La Paz, Puerto Vallarta
All of Undercurrent's information on diving Mexico (Western), including articles, reader reports, Chapbook sections, ...
Diving Mexico (Western) Overview
Diving the seamounts of the Sea of Cortez can yield sea lions and occasional schooling hammerheads, though fishing continues to wipe out the big fish. Still, there's good diving from Cabo Pulmo to Cabo San Lucas, and even farther north operators in La Paz are getting to the seamounts. In winter and spring water temperatures can drop to a low 60°F (15°C). Visibility is lower (25-40ft/7-12m), but generally improves to 80 to 100ft (24-30m) by late summer, when the water warms t0 80°F (26°C) and higher in the Sea of Cortez. From December through May winds kick up the water, which makes diving difficult. Wear a skin or wetsuit for protection from jellyfish.
Diving Socorro Island gives you hammerheads, mantas, and even humpback whales from time to time, though it's a long ride from Cabo and there's no guarantee of sharks or good weather. Manta sightings are reliable, and they have a reputation for letting divers approach. One can find good accommodations and food at all the dive venues north of Cabo. Farther south, Pacific diving is dulled by low visibility.
If it's cage-diving with great white sharks you're after, you'll need to take a liveaboard from Baja's west coast to Isla Guadalupe, a site that until recently was relatively unknown.
Mexico (Western) Seasonal Dive Planner
A one-word description of Sea of Cortez diving: variable. Water temperature and visibility vary dramatically. Two divers returning from the Baja only weeks apart can give such different reports that you have a difficult time believing they've been to the same destination.

In the southern part of the Sea of Cortez, the temperature of the upper 30ft (9m) of water or so remains warm enough year-round (70-80°F/21-26°C) to support tropicals and several varieties of hard coral. Below that depth, winter and spring water temperatures in the 55-65°F/13-°18 C freeze out the tropicals. From mid-summer through November, water temperature is 80°F (26°C) or higher for as deep as sport divers would care to go.

During spring and summer, the surface water temperature rises, of course, but the big change is the lowering of the thermocline. This is a complex and uneven process. During a June visit, the thermocline can be at 45-50ft (13-15m). Sometimes the change is gradual or of small magnitude, but on one dive a plunge in temperature from the surface, at 76°F (23°C) might be recorded, with a thick layer of 60°F (18°C) planktonic green gloom at 50ft (16m) and deeper. Later in the season, the water is 80°F (24°C) plus all the way past 100ft (30m).

Another seasonal variable is the plankton concentration. Sometimes the more plankton-rich waters can be observed as distinct layers and masses. Generally, June visibility is 30-40ft (9-12m). Later in the summer, it's usually 80-100ft (25-30m).

After the first of December, north winds often make diving difficult because of rough seas. Sport diving effectively ceases until May. By spring the thermocline is shallow, and a 7mm wetsuit is recommended (some sort of protection from jellyfish is recommended year-round). Tropical storms can occur during summer and fall, just as in the Caribbean. On average, they are most likely from mid-September to mid-October. La Paz and its water tend to be protected from storm swells by a projection of land on the east and by large islands such as Isla Cerralvo.

It's usually sunny, but during the winter, night air temperatures can drop down into the mid-fifties°F (12°C). Hottest months are August and September. Whale season is December to March.

Featured Links from Our Sponsors
Interested in becoming a sponsor?

Reef & Rainforest
is an agency for travelers that like to scuba dive. Let us plan your trip to view great white sharks & giant mantas in Western Mexico.
Diving Mexico (Western) Reader Reports and Feature Articles
Attention!
Undercurrent Online Member
to view the complete members-only reports and articles.

Some articles that can be fully accessed by the public
have a

button..

Latest Reader Reports from Mexico (Western)

from the serious divers who read Undercurrent
All 10,000+
Reports
Nautilus Explorer/Nautilus Belle Amie - liveaboard Report in Mexico (Western)/Islas Revillagigedo
"Islas Revillagigedo ROCKS!"
filed Mar 14, 2023 by Bobby Munno (Experience: Over 1000 dives, 20 reports, Sr. Contributor )

In January of 2022 at my wife's insistence, I changed our dive plans to the Nautilus Belle Amie for a March 2023 sailing to Las Islas R... ... Read more

---

Aggressor-> Cassiopeia Report in Mexico (Western)/Socorro
"Exceptional wildlife. Substandard live aboard."
filed Jan 9, 2023 by David Ross (Experience: 501-1000 dives, 2 reports)

Comments Waited a bit to give Aggressor fleet management a chance to respond before submitting. It was my first trip with them. M... ... Read more

---

Nautilus Explorer Report in Mexico (Western)
"Mantas, sharks, and dolphins...oh my!"
filed Dec 31, 2022 by Marcia Pedersen (Experience: 501-1000 dives, 10 reports, Sr. Reviewer )

Great trip—people, critters, and accommodations! We arrived two days before the boat left and did two boat dives near the arch. Fun ... ... Read more

---

Nautilus Explorer Report in Mexico (Western)
"Mantas, sharks, and dolphins...oh my!"
filed Dec 31, 2022 by Marcia Pedersen (Experience: 501-1000 dives, 10 reports, Sr. Reviewer )

Great trip—people, critters, and accommodations! We arrived two days before the boat left and did two boat dives near the arch. Fun ... ... Read more

---

Dive Gurus/La Pasada Report in Mexico (Western)/La Paz
"Not a Dive Destination, but a Destination you can dive"
filed Dec 5, 2022 by Kevin Darnell (Experience: Over 1000 dives, 15 reports, Contributor )

First of all, La Paz was a really neat city. The Malecon along the main street and beach was very nice and both locals and tourists enj... ... Read more

---
Complete Articles Available to Undercurrent Online Members; Some Publicly Available as Indicated

Diving Mexico (Western) Articles - Liveaboards

Socorro Aggressor Fails the Test, dumped at last from the Aggressor Fleet, 1/23
Raja Ampat, St. Lucia, Rangiroa, Vancouver Island, some great diving, some questionable characters, 11/22
Mexico's Guadalupe Closed to Great White Diving, 9/22
An Opinion about Liveaboard Safety, who's driving the boat while you sleep?, 7/22
The Pacific Quartet, the Caribbean, and Great Whites, we're getting back in the water, 11/21
South Caicos, Jupiter, St. Vincent, Cozumel , Undercurrent subscribers are traveling again, 10/21
Nautilus Liveaboards Gets Flack and Responds Well, 4/20
Socorro Aggressor, Revillagigedo Islands, Mexico, will dry-docking make her worth the price?, 3/20
Quino del Guardián, Sea of Cortés, Mexico, great diving, but next time a better boat, 1/20
A Row Erupts Over a Great White Shark's Death, 1/20
Dump Valves, Customs Scams, Suunto Lawsuit, your letters to the editor, 7/19

Available to the Public
Belize, Utila, Palau, Komodo, Bonaire, Caribbean whalesharks, missing hammerheads, 6/17
MV Valentina. Sea of Cortez, Baja, Mexico, sea lion diving on a luxury liveaboard, 2/17
Nautilus Belle Amie, Guadalupe Island, Mexico, eye-to-eye with a great white, 1/17
Goodbye Undersea Hunter, Hello Nautilus Undersea, 8/16
Nautilus Explorer, Socorro Islands, Mexico, big animals, little value, 7/15
Avoid New Liveaboards for at Least a Month, 7/15
Belize, Bonaire, Florida, Philippines . . ., and a Cozumel dive shop with a great refund policy, 7/15
The Sea of Cortez, Revisited, 11/14
Rocio del Mar, Sea of Cortés, Mexico, sturdy, functional boat in remote, fish-filled waters, 10/14
Baja California, Fiji, Montserrat, pesky politics and squirrely harbormasters, 4/14
Solmar V, Baja California, Mexico, a 24-hour steam to wild diving at the Socorros, 3/12
Cape Eleuthera, Fiji, Maui, Mexico, two more Baja boats, a new dive shop, and a great night dive, 3/12
Zen and the Art of Cageless Shark Diving, a rejoinder from Amos Nachoum, 11/10
Mexican Great White Risks, dive operators take it to the extreme at Guadalupe Island, 9/10
Rocio del Mar, Sea of Cortez, Mexico, good liveaboard and fish life, with well-trained crew -- and sea lions, 3/10
Other Guadalupe Trips, 3/06
From San Diego to San Benito, Mexico, Spearfishing and scuba aboard the Horizon, 4/01
The Sea of Cortez, By Sea, By Land, The Don Jose and ..., 1/01
Solmar V to San Benedicto & Socorro, It Doesn't Get Much Worse Than This, 4/98
Manta Rendezvous, Off Baja, rays in your face, 6/97
Socorro, South of Cabo, 10/94

Diving Mexico (Western) Articles - Land Based

Mexico Closes Down Great White Shark Cage Diving , and there are questions why, 2/23
Big and Unnecessary Disappointments, the Solmar V leaves passengers with nowhere to go, 4/22
Bringing Underwater Camera Gear to Dive in Mexico?, it just may cost you, 10/19
Baja Charters, La Paz, Baja California, great snorkeling with whale sharks -- weather permitting, 2/19
Getting To and Around Baja California, 2/19

Available to the Public
Nicaragua, Lembeh, Thailand, Florida, Socorro, Unusual dives, cheap flights, a new resort, 5/18
Ambergris, the Red Sea, Raja Ampat, bad briefings, free flowing regulators, overflowing toilets, 9/17
Dominica, Fiji, Belize, Costa Rica, Florida, big animals, no head counts, free flowing regulators, 7/17
Swimming with La Paz Whale Sharks, 2/17
Mozambique, Mexico, Philippines . . ., more on the Thorfinn, and another Bonaire warning, 10/15
Cabo Pulmo: Credit Card Theft and Charming Casitas, 3/14
Cabo Pulmo, Baja California, Mexico, a fish-filled marine preserve for divers who like "rustic", 2/14
Husband Sues PADI for Wife's Death from Carbon Monoxide, 1/14
Dolphin Dive Center, Loreto, Baja CA, Mexico, dolphins and a mix of marine life in the Sea of Cortez, 2/13
Cancun, Cabo San Lucas, Fiji, Truk. . ., plus unexpected cold water, and a liveaboard to avoid, 8/12
Showdown in Cabo Pulmo, 1/12
Australia, Grand Cayman, Philippines . . ., and when it's really the best time to dive in Raja Ampat, 11/11
Mexico, Myanmar, Palau, Roatan, where to see big fish, where to avoid dead reefs and daytrippers, 6/11
Vista Sea Sports, Baja California, Mexico, as fishy as it gets this close to home, 2/10
Cabo Pulmo Beach Resort, Baja California, a pristine dive spot in the Sea of Cortez, 3/08
Vista Sea Sports: Another Good Baja Dive Shop, 3/08
Midriff Islands, Sea of Cortez, Mexico, cool water, abundant marine life, 6/06
Guadalupe Island, Baja Mexico, searching for the great white, 3/06
Club Cantamar Revisited, 1/06
Club Cantamar, La Paz, Baja, Mexico, unique diving close to home, 10/05
Holbox Island, Quintana Roo, Mexico, some big, big surprises, 10/04
Bahia de Los Angeles, Mexico, a ten-hour drive to guaranteed whale sharks, 8/02
Mexico (Western) Sections from Our Travelin' Diver's Chapbooks
Reader Reports filed for that year
Editor's Book Picks for Scuba Diving Mexico (Western)
Including the Guadalupe Island, Sea of Cortez, Baja, Isla Socorro, Cabo Pulmo, Ixtapa, La Paz, Puerto Vallarta
The books below are my favorites about diving in this part of the world All books are available at a significant discount from Amazon.com; just follow the links. -- BD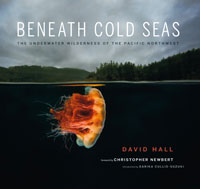 Beneath Cold Seas: The Underwater Wilderness of the Pacific Northwest
by David Hall
It's hard enough to take a first-rate photo of reef life in the best of conditions. Try doing it in murky, bone-numbingly cold water while wearing a dry suit with 40-plus pounds of weights around your waist, and thick, insulating gloves that make it hard to use the camera controls. That's what David Hall had to endure while photographing in Canadian waters, but those physical disadvantages make Beneath Cold Seas all the more amazing.
Hall's book successfully disputes the belief that cold-water reefs are drab and dismal. He has regularly photographed the world's most beautiful dive spots for major magazines from National Geographic to Time. While Hall's shots are taken entirely at Browning Passage in British Columbia, the reef life he shoots resides along the Pacific Coast, from Northern California up to Alaska, and they are as diverse and spectacular as any creature in Raja Ampat or Fiji.
Click here to buy it at Amazon via our website -- our profits go to save the reefs.
---

Reef Fish Identification: Baja to Panama
by Paul Humann and Ned Deloach
The latest edition in the popular Paul Humann series of marine life books. The most comprehensive field guide ever compiled for identifying reef fishes from the Gulf of California to the Pacific coast of Panama, including offshore islands. More than 500 photographs of 400 species taken in their natural habitat. The book is dedicated to Baja Legend Alex Kerstitch and includes several of his drawings and photographs. The concise text accompanying each species portrait includes the fish's common, scientific and family names, size range, description, visually distinctive features, preferred habitat, typical behavior, depth range, and geographical distribution.
Click here to buy it at Amazon.
---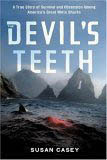 The Devil's Teeth: a true story of Obsession and Survival among America's Great White Sharks:
by Susan Casey
Perhaps the greatest gathering of great white sharks in the world is at the Farallon islands, 26 miles from San Francisco. Researchers have tracked and studied them for years and at least one diver still collects sea urchins in the midst of their gatherings. Journalist Susan Casey lived on these barren islands to write a fascinating, awe-struck account of the sharks, their amazing behavior, their killing strategies, their long distance travels, and life with the researchers. Click on this Undercurrent link to purchase the 304-page, hardbound, The Devil's Teeth at Amazon.com's best price, and all our proceeds will go to coral reef conservation.
---

An American Underwater Odyssey: 50 Dives in 50 States
: by Charles Ballinger.
Underwater Odyssey is the story of a scuba diving safari to every state in America. Tired of touring coral reefs, the author embarks on a year-long quest to discover the incredible assortment of adventure diving found in our nation's backyard. His dogged determination to follow his dreams and explore everything from flooded missile sites to abandoned mines should be an inspiration for any diver. Underwater Odyssey transcends the limits of a dive guide to reveal the broader adventure that diving provides.
Click here to buy it at Amazon.
---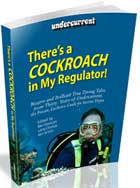 There's a Cockroach in My Regulator
by Undercurrent
The Best of Undercurrent: Bizarre and Brilliant True Diving Tales from Thirty Years of Undercurrent.

Shipping now is our brand new, 240-page book filled with the best of the unusual, the entertaining, and the jaw dropping stories Undercurrent has published. They're true, often unbelievable, and always fascinating. We're offering it to you now for the special price of just $14.95.

Click here to order.
---
You might find some other books of interest in our Editor's Book Picks section.