Scuba Diving Guides of the Indian Ocean
Dive reviews of the best liveaboards and dive resorts in the Indian Ocean
and the worst!
Below you'll find links to our guides for all the diving information Undercurrent has on virtually any dive destination in the Indian Ocean, with detailed information and reviews of the liveaboards, dive resorts, dive shops, and the diving itself. Everywhere including Maldives, Indoesia, Thailand, Australiaa, ... In each of these guides you'll find an overview of the destination, diving resorts and liveaboards review articles from our issues, up-to-the-minute diving reviews in our Instant Reader Reports and Chapbooks, seasonal information on the diving, dive-related books for the area, and links to other sources of information. Just select the dive destination of interest and you'll find a wealth of dive reviews and information that is unbiased, honest, and revealing -- plan your dive trip by starting here.


Click on the diving area of interest below or
just select the location from the list following the map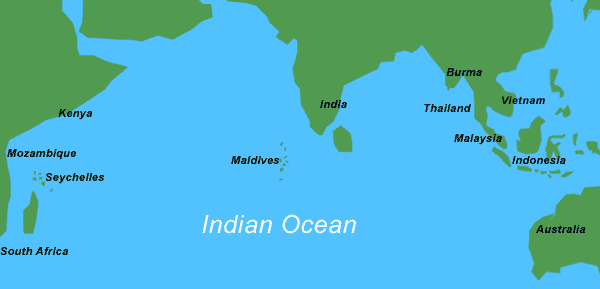 | Indian Ocean| Eastern Pacific | Wider Caribbean & Atlantic | Mediterranean & Red Sea |Central & Western Pacific |
| General Travel Articles | back to World Index |
Africa
including Kenya, South Africa, Mozambique, Tanzania, Madagascar, and Cape Verde Islands
Burma
India
Indonesia
including Sulawesi,Bali, Kalimantan, Sangalaki, Sulawesi, Komodo, Alor, Irian Jaya
Maldives
Malaysia
including Sipadan and Layang Layang
Oman
Seychelles
Thailand
including Phuket, Richelieu Rock, the Burma Banks, Vietnam and Cambodia
United Arab Emirates
---
Copyright © 1996-2017 Undercurrent (www.undercurrent.org)
3020 Bridgeway, Ste 102, Sausalito, Ca 94965
All rights reserved.