Free-to-Read in Undercurrent this month: Fire aboard MV Conception
Subscribe to Undercurrent Now
More Expensive California Dive Trips
Traveling to the Galápagos?
A Jellyfish Lake Closer to Home
Lithium Batteries in the Dock
Another Danger Lurking in a Drawer
No Freshwater Rinse?
Big Prizes for Underwater Photography
This Month in Undercurrent
Unshackled by the Need For Advertisers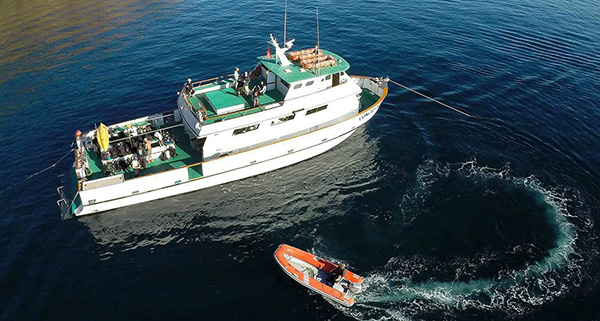 Free-to-Read in Undercurrent this month: Fire aboard MV Conception October 20, 2019
The dive boat burned to the water line at night near the California's Channel Islands -- with the loss of 34 divers' lives. It was the nation's deadliest maritime disaster in the past 30 years. What caused the fire is still a mystery, but questions about safety need answering. Why was nobody on watch and why could none of the passengers escape? You can read-it-for-free here.
Subscribe to Undercurrent Now October 20, 2019
Subscribe to Undercurrent now for six-month trial at only $17.95 and get my new 36-page Seven Super Dive Resorts (and one meh) mailed directly to you. The hard-hitting Undercurrent newsletter also gives you access to more than 10,000 reports on dive destinations submitted unedited by its readers. If you are dissatisfied for any reason your money will be refunded. To subscribe at this special rate of $17.95 for six months, simply click here.
More Expensive California Dive Trips October 20, 2019
The U.S. Coastguard is considering new safety regulations following the disastrous Conception fire. One big change under consideration is to eliminate high-density sleeping arrangements. While current regulations require that one crewmember be on watch at night, this might be increased to two. The price for overnight boat trips would increase accordingly. More in Undercurrent (November).
Traveling to the Galápagos? October 20, 2019
We suggest you avoid the capital of Ecuador, Quito, where riots have broken out over several days following economic problems and cuts in fuel subsidies. Travel instead via Guayquil, further south with connections to Baltra island.
A Jellyfish Lake Closer to Home October 20, 2019
You don't need to go to Jellyfish Lake, Palau. A quarry use by divers in Bellevue near Nashville, TN, is now home to thousands of freshwater jellyfish. First observed a few years ago, these Craspedacusta sowerbii reproduce both sexually and asexually so the population has boomed. They are not considered dangerous to humans.
Lithium Batteries in the Dock October 20, 2019
Be aware that Li-ion batteries can catch fire if they come into contact with water, and be very difficult to extinguish. Use a CO2, ABC dry chemical, powdered graphite, copper powder, sodium carbonate or foam extinguisher. Never leave a Li-ion battery charging unattended at night.
Another Danger Lurking in a Drawer October 20, 2019
Common 9v batteries have endless applications, but even they can cause a fire. Unprotected terminals that come into contact with metal can cause the batteries to both overheat and ignite. So never put an unprotected 9v battery in your pocket or throw it loose in a drawer where metal awaits. Keep batteries in their packaging and dispose of them sensibly after use.
No Freshwater Rinse? October 20, 2019
Undercurrent subscriber Harry Haley (Yorktown, VA) wisely suggests that in the absence of a freshwater rinse on a dive boat, it's better to keep your underwater camera in bucket of seawater between dives. Failing that, wrapping your camera kit in a wet towel will stop it drying out before you get a chance to give it a proper rinse in fresh water later.
Big Prizes for Underwater Photography October 20, 2019
The closing date for entries to this year's World Shootout competition, with prizes worth $20,000, is the end of October. Photographers are invited to submit a set of their five best images shot during the last 12 months. worldshootout.org
This Month in Undercurrent October 20, 2019
An economical trip aboard Raja Ampat Explorer . . . Advances in integrated-weight systems on BCs . . . Sea Saba - a delightful village and pristine Caribbean diving . . . After the storm – a Bahamas update . . . Dive vessel inspections – it's not always as it seems . . . A design student's concept is a full-face flop . . . Mexican Customs get tough on underwater photographers . . . Climate change is affecting South Africa's sardine run . . . Hotel choices for those not getting enough time underwater . . . Dying coral closes much of Cozumel diving . . . and much, much more.
Unshackled by the Need For Advertisers October 20, 2019
Unshackled by the need for advertisers, Undercurrent is a unique publication that goes where other diving media fear to tread. Subscribe to Undercurrent now for a six-month trial at only $17.95 and get my new 36-page Seven Super Dive Resorts (and one meh) mailed directly to you. To subscribe at this special rate of $17.95 for six months, simply click here.
Ben Davison, editor/publisher
Contact Ben
-----------------------------------------------------------------------------
Note: Undercurrent is a registered 501(c) (3) not-for-profit organization donating funds to help preserve coral reefs. Our travel writers never announce their purpose, are unknown to the destination, and receive no complimentary services or compensation from the dive operators or resort.
I want to get the full story! Tell me how I can become an Undercurrent Online Member and get online access to the complete articles from current and back issues of Undercurrent as well as thousands of first hand reports on dive operations worldwide

Highlights of Previous Online Updates
*
Here are past Online Update emails sent out . You can sign-up for free to receive these in the future here.
* Sometimes referred to as Upwellings