Scuba Diving Guides of the World
Dive reviews of the best liveaboards and dive resorts
and the worst!
Below you'll find links to our guides for all the diving information Undercurrent has on virtually any dive destination in the world, with detailed information and reviews of the liveaboards, dive resorts, dive shops, and the diving itself. In each of these guides you'll find an overview of the destination, diving resorts and liveaboards review articles from our issues, up-to-the-minute diving reviews in our Instant Reader Reports and Chapbooks, seasonal information on the diving, dive-related books for the area, and links to other sources of information. Just select the dive destination of interest and you'll find a wealth of dive reviews and information that is unbiased, honest, and revealing -- plan your dive trip by starting here.


Click on the diving area of interest below or
just select the location from the list following the map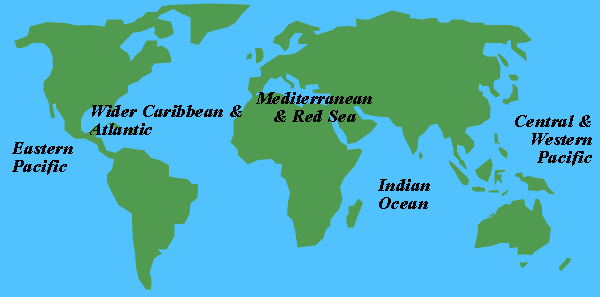 | Eastern Pacific | Wider Caribbean & Atlantic | Mediterranean & Red Sea | Indian Ocean | Central & Western Pacific |
| General Travel Articles |


Select the country/area and go directly to the information
(use Ctrl-f to search on this page)
Africa
including Kenya, South Africa, Mozambique, Madagascar, Tanzania, and Cape Verde Islands
Anguilla

Antigua
Aruba
Australia
including Great Barrier Reef, Heron Island and Whitsunday Islands
The Bahamas
including Abaco, Andros, Bimini, Grand Bahama Island, Long Island, New Providence, San Salvador and Walker's Cay
Barbados
Belize
including Ambergris Caye, Glover's Atoll, Lighthouse Reef, St. George's Caye, Southern Belize and Turneffe Atoll
Bermuda
Bikini Atoll and Marshall Islands
Bonaire
Brazil
Burma
Canada
Cayman Islands
including Grand Cayman, Little Cayman and Cayman Brac
Chile
including Easter Island
Colombia
including Malpelo
Cook Islands
Costa Rica
including Cocos Islands
Cozumel
Cuba
including Isla de Juventud
Curaçao
Dominica
Dominican Republic
Fiji
including Beqa Lagoon/Pacific Harbor, Kadavu, Laucala, Nananu-I Ra, Taveuni and Matangi
French Polynesia
including Tahiti, Bora Bora, Moorea and Rangiroa
Galapagos Islands including Ecuador
Grenada
The Grenadines
(with St. Vincent) including Bequia
Guadeloupe
Guam
Hawaii
including Maui, Kauai, Kona and Oahu
Honduras
including Roatan, Guanaja, Utila, and Cayos Cochinos
India
Indonesia
including Sulawesi,Bali, Kalimantan, Sangalaki, Sulawesi, Komodo, Alor, Irian Jaya
Jamaica
Japan
Kiribati (Christmas Island)
Malaysia
including Sipadan and Layang Layang
Maldives
Mediterranean
including France, Greece, Italy, Portugal, Spain, Cyprus and Croatia
Mexico (Caribbean)
including Cozumel, Cancun, Costa Maya, Mayan Riviera, Akumal and the rest of the Yucatan
Mexico (Western)
including Sea of Cortez, Baja, Isla Socorro,Cabo Pulmo, Ixtapa, La Paz, Puerto Vallarta
Micronesia
including Palau, Truk (Chuuk) Yap, and Kosrae
New Zealand
Nicaragua
Niue
Oman
Panama
Papua New Guinea
Philippines
Puerto Rico
Red Sea
including Egypt (Dahab, South Sinai, Hurghada), Israel, Sudan and Jordan
Saba
Seychelles
Solomon Islands
Spain
St. Barth
St. Eustatius
St. Kitts and Nevis
St. Lucia
St. Maarten/ St. Martin
St. Vincent and the Grenadines
including Bequia
Thailand
including Phuket, Richelieu Rock, the Burma Banks, Vietnam and Cambodia
Trinidad and Tobago
Tonga
Turks and Caicos
including Grand Turk, South Caicos, Providenciales, and Salt Cay
United Arab Emirates
USA (Continental)
including Florida, California,Texas,North Carolina, South Carolina, Alaska, Washington, Missouri
Vanuatu
Venezuela
Virgin Islands
including US Virgin Islands (St. Croix, St. John, St. Thomas) and the British Virgin Islands (Tortola, Virgin Gorda)

General Travel Articles
(not country specific)
See the latest up-to-the-minute reader reports in our Instant Reader Reports section
---
Copyright © 1996-2017 Undercurrent (www.undercurrent.org)
3020 Bridgeway, Ste 102, Sausalito, Ca 94965
All rights reserved.