Kittiwake Flipped
Punch a Shark and Get Fired!
The Exciting Scuba Thriller Tropical Ice, just 99Ę
Aqua Lung Regulator Safety Problem
Why Serious Divers Subscribe to Undercurrent
Two Free Reports: Eight Great Liveaboards (and One Disaster) and Eight Great Dive Resorts (and One Dog)
Where to Go in the Caribbean?
Hurricane Damage Update
Bali Volcano Update
Take a Peek at Two October Stories

Kittiwake Flipped October 12, 2017
Tropical storm Nate passed close to the Caymans and Cozumel, generating seas massive enough to flip Grand Caymanís wreck of the Kittiwake on her side. See here.
Punch a Shark and Get Fired! October 12, 2017
A disappointed Stuart Cove had to dismiss one of his shark feeders after the young man was seen pummelling a small nurse shark that had forced access to the bait box during a shark feeding dive in the Bahamas. Gnarly Neal, the dive guide in question, had the misfortune to be video taped by one of the watching divers and the clip later went viral on social media with predictable reactions. The shark appeared not the worst for the experience. We wrote about it in our October issue.
The Exciting Scuba Thriller Tropical Ice, just 99Ę October 12, 2017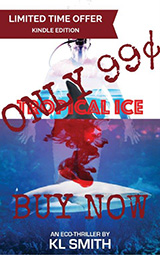 Amazon is offering a three-day Kindle promotion, ending Saturday, October 14.

Written by Undercurrent editor Ben Davison, under the name KL Smith, itís received great reviews from divers everywhere and is highly rated on Amazon. Get your copy now!
Aqua Lung Regulator Safety Problem October 12, 2017
Do you have one of those Aqua Lung regulators with that Auto Closure Device or ACD? Thatís the feature that allows you to rinse your first-stage without the blanking cap in place and without getting water in the works. Well, Aqua Lung is concerned that a component may not have been properly tightened resulting in a possible gas-flow failure during a dive. Aqua Lung is conducting a voluntary product check of regulators with the ACD yoke systems. Models affected are the Titan LX with serial numbers prefixed E or F, the Core ACD with serial numbers prefixed E Ė H, and the Legend ACD or Legend LX ACD. If you have one of these regulators, best get it checked out by a qualified Aqua Lung service technician. For additional assistance, please call 800-775-3483 or visit www.aqualung.com and click on the Safety Notice.
Why Serious Divers Subscribe to Undercurrent October 12, 2017
In October, first hand, undercover received reports on the Okeanos Aggressor and Cocos Island hammerhead diving Ö on Lady Elliot Island and the best of the Great Barrier Reef, and why you should dive it now . . . How you may use Snapchat while diving . . . How diving-caused pulmonary edema might be defeated by those little blue pills . . . Important updates on hurricane-affected dive destinations and what destinations to switch to . . . An Aggressor trip advertised as tax-deductible that may not be; and other great dive trips that are tax-deductible . . . Serious research about when it is time to hang up your fins . . . Why some believe that those snorkel masks are death traps . . . And much, much more.

Click HERE for details.
Two Free Reports: Eight Great Liveaboards (and One Disaster) and Eight Great Dive Resorts (and One Dog) October 12, 2017
These two 40-page reports are yours free with your no-risk trial subscription to Undercurrent, the ad-free guide for serious divers. These are first-hand reviews from our undercover travel writers who pay their own way. You can download them or, if you live in the US or Canada, Iíll mail hard copies. Then, each month, you will receive in your mailbox our 20-page, advertisement-free issue with unique articles on safety, equipment, and all diving matters, as well as no-holds-barred travel reviews. And, you have full access to ten years of back issues and thousands of first-hand travel reports by our readers. Sign up here for a $19 seven-month trial membership with no risk -- if you donít care for our issue, Iíll refund your money and you can keep both books, as my thanks for trying us.
Where to Go in the Caribbean? October 12, 2017
Looking for a spot to dive not totally hurricane-torn? There are plenty. Bonaire, Aruba, Curacao, Tobago, Belize, Honduras, Cozumel, the Cayman Islands, Grenada & Carriacou, Tobago, Barbados, Providencia (Nicaragua), St Lucia and the Caribbean coast of Cuba are among the destinations unaffected and ready for your visit Ė or even the northern Bahamas. And most operations in Florida are up and running.
Hurricane Damage Update October 12, 2017
If youíre concerned about the status of any Caribbean destination, DEMA issues press releases once a business is up and running again. For the latest information, visit www.dema.org/?page=HurricaneUpdate
Bali Volcano Update October 12, 2017
Going to dive in Bali? While scientist think the volcano Mount Agung is due to erupt, truth is the situation is as fluid as the magma thatís expected to roll down its slopes. While most tourist areas are safe, resorts in the Tulamben and Amed areas have closed for the time being, while other areas are still operating. If you are just hubbing at the Denspasar Airport, you ought to give yourself an extra 24 hours if your flight needs to find an alternative airport. A good overview of the situation (at least prior to an eruption) is here.

To get the current status, best to check with your agent or resort before going. An unofficial Facebook status report is here.
Take a Peek at Two October Stories October 12, 2017
We published a first-hand review by our undercover reporter aboard the Okeanos Aggressor II to dive Cocos Island in Costa Rica. You can read the story for free here. Or, discover which regulator passed the US Navy Experimental Diving Unitís cold-water regulator tests in the freezing waters of Antarctica. Their results were contrary to expectations. Read it here.

And to subscribe to Undercurrent, click here.
Ben Davison, editor/publisher
Contact Ben
-----------------------------------------------------------------------------
Note: Undercurrent is a registered 501(c) (3) not-for-profit organization donating funds to help preserve coral reefs. Our travel writers never announce their purpose, are unknown to the destination, and receive no complimentary services or compensation from the dive operators or resort.
I want to get the full story! Tell me how I can become an Undercurrent Online Member and get online access to the complete articles from current and back issues of Undercurrent as well as thousands of first hand reports on dive operations worldwide

Highlights of Previous Online Updates
*
Here are past Online Update emails sent out . You can sign-up for free to receive these in the future here.
* Sometimes referred to as Upwellings