Your Gear is Too Important to be Faulty
Do You Sign Your Life Away?
Unwell and Far From Home?
Undercurrent on Facebook
A Cut Price Scuba Wheelchair
Travel Stories, Warts and All
Our New 40-page book – Eight Great Dive Resorts – and One Dog
Of Course, What You See on the Internet May Not Be As it Seems
Coming up in Undercurrent
The Time of Year to Buy a Book?

Your Gear is Too Important to be Faulty December 17, 2016
Undercurrent regularly notifies subscribers of a product recall, as it did with Aqua Lung Powerline inflators recently. Sometimes we are ahead of the curve thanks to vigilant subscribers. We recently took Sherwood to task over a possibly dangerous design for its BC camband. An article about computer depth sensors resulted in an Undercurrent subscriber writing about bad depth sensors on the several Atomic Cobalt computers he'd possessed. We think there is a problem there. With no advertisers to please, we never shy away from criticism, whether it's products or services. Undercurrent subscribers can view all these and other articles back ten years.
www.undercurrent.org
Do You Sign Your Life Away? December 17, 2016
Training agencies and others insist that before diving with a liveaboard or dive operator, one must sign a "Waiver of Rights. How do you feel about that? Do you think it's right that an operator might be seriously negligent, leading to your loss of life, and yet be protected from the legal ramifications? Do you freely sign the waiver or attempt to modify it? Help us with a story and email us to tell us what you think of these waivers and any experiences you may have had with them. BenDDavison@undercurrent.org
Unwell and Far From Home? December 17, 2016
Nowadays we dive in ever more remote locations. But what are you going to do if you are off on a liveaboard in the middle of the Indian Ocean or at a remote resort with no airstrip and a chamber hundreds of miles away, and suddenly display symptoms of DCS? The textbooks tell you to go to a hyperbaric treatment facility straight away, but that might be three days distant. A man with plenty of relevant experience, Bret Gilliam, has given it some thought and come up with a solution. You may not like it. All will be revealed to subscribers in January's issue of Undercurrent.
Undercurrent on Facebook December 17, 2016
We post the most interesting video clips of the underwater world on our Facebook page. The clip that was most appreciated this year was that of Sue Austin, an internationally acclaimed multimedia, performance and installation artist, zooming about a Red Sea reef underwater in her Pegasus Thruster-powered wheelchair. In repurposing her wheelchair to create fantastical art, Sue reshapes how we think about disability.
A Cut Price Scuba Wheelchair December 17, 2016
While Sue Austin's adapted wheelchair costs around $9,300, disabled diver Igor Skikevich, 51, reckons he's about to go into full production of what he calls a "submarine wheelchair" that will cost about $1000. Disabled Skikevich, from southwest Russia's Rostov Oblast region, came up with the idea after a dive trip to the Sea of Japan. http://www.mirror.co.uk/news/weird-news/disabled-diver-invents-scuba-chair-9421005
Travel Stories, Warts and All December 17, 2016
Everyone wants their trip of a lifetime to be exactly that, but we live in an imperfect world so out travel writers tell the full story, including the bed that might be uncomfortable, the difficult dive guide or liveaboard captain, or the food that was possibly inedible - as well as what was good. We paint the full picture "warts and all" so you can get a proper impression of what you might be getting. Coming up: great white shark diving in Mexico, a little known island with good reefs off Nicaragua, liveaboard and land-based diving in Indonesia, and much more. Undercurrent is not like other diving publications. No wonder our writers need to be incognito!
Our New 40-page book – Eight Great Dive Resorts – and One Dog – is yours, at no charge, December 17, 2016
with your trial subscription to Undercurrent. I've pulled together eight complete first-hand reviews of great resorts – and one dog -- from our best travel reviewers who pay their own way and never disclose their purpose. They tell you the truth about the diving, the fish, the reefs, the food, the beds, and much, much more, so you can pick your next dive destination without worry. Click HERE for details.
Of Course, What You See on the Internet May Not Be As it Seems December 17, 2016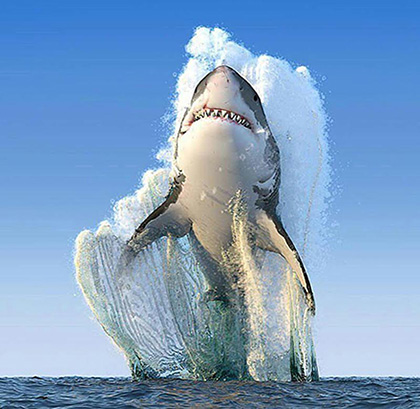 Recently, what was said to be a spectacular and award-winning picture of a great white shark breaching by National Geographic photographer Bob Burton went viral. But there is no such photographer as Bob Burton and the picture was not awarded 'Photo of the Year'. It was, in fact, the digitally manipulated work of a Russian 3D graphic artist who goes by the name of Alexyz3d. Sorry to disappoint you!
Coming up in Undercurrent December 17, 2016
A Hawaiian tragedy and its effect on liability waivers. . . Another treasure find claim . . .An appeal by a shark lover . . .Stay away from that propeller . . .Treasure trove in Lake Travis . . . Clarification of lithium batteries in your flight bag . . . Shark Doc, Shark Lab . . . Talk about tank valves . . . What you should know about the Irukandji . . . and much more.
The Time of Year to Buy a Book? December 17, 2016
The Undercurrent bookshop offers a number of publications that will interest a diver. Take a look here where you will find everything that's recently been reviewed.
Ben Davison, editor/publisher
Contact Ben
-----------------------------------------------------------------------------
Note: Undercurrent is a registered 501(c) (3) not-for-profit organization donating funds to help preserve coral reefs. Our travel writers never announce their purpose, are unknown to the destination, and receive no complimentary services or compensation from the dive operators or resort.
I want to get the full story! Tell me how I can become an Undercurrent Online Member and get online access to the complete articles from current and back issues of Undercurrent as well as thousands of first hand reports on dive operations worldwide

Highlights of Previous Online Updates
*
Here are past Online Update emails sent out . You can sign-up for free to receive these in the future here.
* Sometimes referred to as Upwellings