Read the First Chapter of Tropical Ice
Man-o-War Jellyfish Sting Advice
The Andrea Doria Claims Another
Get Underwater on Eclipse of the Sun Day
What You Missed in the August issue of Undercurrent
Eight Great Liveaboards (and One Disaster) and Eight Great Dive Resorts (and One Dog)
The 'Gator got Him by the Balls!
Quick Solution for Long-Sighted Divers
Silence of the Sharks

Read the First Chapter of Tropical Ice August 14, 2017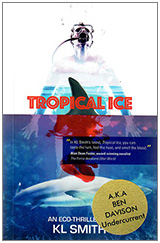 "One of the best adventure thrillers I've ever read, and I've read a million! A true page-turner. Listen, do you like Clive Cussler's novels? Ken Smith (aka Ben Davison) is a better writer than old Clive, and he's actually lived the life he writes about. Go! Buy! Trust me! You won't be sorry." And, it's probably the first shark thriller ever where sharks aren't hunting humans, but humans are hunting sharks.
Tropical Ice is available in paperback, Kindle or as an e-book from Amazon.
Get more information at www.tropicalicethriller.com.
Want to read the first chapter before you order? It will shock you. Click here.
Man-o-War Jellyfish Sting Advice August 14, 2017
Science Daily has revealed a new study by researchers at the University of Hawai'i (published in Toxins) that debunks the idea that urinating on Physalia jellyfish stings — washing the site in seawater and perhaps peeing on it before applying an icepack -- is a real solution. Instead, they found that rinsing with vinegar before immersing in hot water above 113°F (45°C) for 45 minutes was more effective. Earlier studies found hot water is best for most jellyfish stings.
The Andrea Doria Claims Another August 14, 2017
The 24th of July saw another diver fatality on the wreck of the Andrea Doria. Crew-members of the dive boat Ol' Salty II administered CPR to British diver, Steven Slater, when he was pulled from the water but he remained unresponsive. Seven people have died while exploring the wreck since 2005. It sank in 1956, 60 miles southeast of Nantucket.
Get Underwater on Eclipse of the Sun Day August 14, 2017
On Aug. 21 Mermet Springs, in Belknap, Illinois, is offering a package to 100 divers to view the eclipse from underwater and become certified as "official solar eclipse divers." Well, the certification seems a bit silly, but just go diving anywhere near your home and view the eclipse. Word is, you should still have proper eclipse glasses.
What You Missed in the August issue of Undercurrent August 14, 2017
First-hand undercover reviews of St. Lucia, French Polynesia and Tulumben, Bali . . . Bahamas Shark Dive Operator Gets Sued . . . Poisonous Air . . . Shark Movies . . . Tigers Get Around . . . Worse Things Happen at Sea . . . Is it One Up, All Up? . . . Undercurrent comes to the aid of a subscriber . . . More on Online Trip Booking Portals . . . Underwater Wineries . . . and much, much more.
Eight Great Liveaboards (and One Disaster) and Eight Great Dive Resorts (and One Dog) August 14, 2017
These two 40-page books are yours with your trial subscription to Undercurrent, the ad-free guide for serious divers, in our 42nd year of publication. You can download them or, if you live in the US or Canada, I'll mail hard copies. I've pulled together first-hand reviews from our best travel writers who pay their own way and never disclose themselves. Then, each month, with your subscription, you will receive in your mailbox our 20-page, advertisement-free, issue of serious articles on safety, equipment, and all diving matters, as well as no-holds-barred travel reviews. And if you decide you don't want Undercurrent, I'll refund your payment, and both books are yours to keep, as my thanks for trying us. Sign up here for a $19 a seven-month trial subscription.
The 'Gator got Him by the Balls! August 14, 2017
Scott Lahodik is a scuba diver who works for golf courses retrieving lost balls from water hazards. While rooting around looking for balls in a lake at the Rotonda Golf and Country Club, Charlotte, FL, he was bitten by the resident 'gator. The unfortunate diver is expected to be OK after sustaining a bite to his left arm. The 'gator was less lucky, however, because it was trapped and euthanized.
Quick Solution for Long-Sighted Divers August 14, 2017
Undercurrent subscriber Harry Haley (Yorktown, VA) wrote to remind us of an alternative to prescription lenses in your mask. Optix 20/20 Hydrotac bifocal stick-on lenses are designed to give older divers a clear view of gauges in a range of +1.25 to +3 diopter strengths. They are removable and re-usable, and the soft clear plastic, supplied in a half-circle, can be cut to fit if necessary. $30. www.optx2020.com
Silence of the Sharks August 14, 2017
A three-day shark congress organized by the University of Haifa, with Dr. Sylvia Earle, is part of an event in the Red Sea port of Eilat, Israel, culminating in a mass dive by around 500 divers during the period October 19th - 22nd. Would-be attendees should register by going to www.silenceofthesharks.org/Registration/Divers.
Ben Davison, editor/publisher
Contact Ben
-----------------------------------------------------------------------------
Note: Undercurrent is a registered 501(c) (3) not-for-profit organization donating funds to help preserve coral reefs. Our travel writers never announce their purpose, are unknown to the destination, and receive no complimentary services or compensation from the dive operators or resort.
I want to get the full story! Tell me how I can become an Undercurrent Online Member and get online access to the complete articles from current and back issues of Undercurrent as well as thousands of first hand reports on dive operations worldwide

Highlights of Previous Online Updates
*
Here are past Online Update emails sent out . You can sign-up for free to receive these in the future here.
* Sometimes referred to as Upwellings