Suunto Tank Transmitter and Tank Pod Failures
Tropical Ice, an Eco-Thriller
Those Internet-Based Dive Travel Websites
Buddy Inconvenient
Spare-Air Reinvented?
No Chums for Nat Geographic Crew
What you Missed in Undercurrent for July
Eight Great Liveaboards (and One Disaster) and Eight Great Dive Resorts (and One Dog)

Suunto Tank Transmitter and Tank Pod Failures July 13, 2017
Because at least two of these items have burst when being tested by Suunto, Suuntoís Ryan Crawford tells Undercurrent they are recalling all they have manufactured. If youíre a user, you should stop using and get it upgraded or replaced by Suunto or an authorized service center. The affected models are SS019098000 and SS005397000 tank transmitters and SS020306000 tank pod (these are part, not serial, numbers). Suunto will extend upgraded transmitter warranties by a year after registering with www.mysuunto.com. For details and how to proceed, www.suunto.com/recall
Tropical Ice, an Eco-Thriller July 13, 2017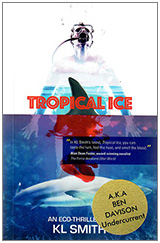 Divers gather round a frozen baitball during shark week in Belize, as marauding sharks rip out a gory surprise, sending divers scurrying. Thatís the kickoff to Tropical Ice, an exciting new eco-thriller tackling shark finning, seahorse mining for phony Asian aphrodisiacs, jaguar poaching, and endless crimes against nature. And scuba travel writer Matt Oliver finds himself smack in the middle of trouble. The book was actually written by the founder of Undercurrent, Ben Davison, who has come out from behind his anonymous cloak to write this roller coaster of a ride that you wonít put down. Itís not self-published Ė he has an agent and publisher Ė so you can find it in select book stores or order a copy or a Kindle at Amazon.

Click here for a copy signed by Ben and KL. Read more at www.tropicalicethriller.com
Those Internet-Based Dive Travel Websites July 13, 2017
The online revolution with technically slick dive trip booking portals Ė but not a lot of behind the scenes help for divers -- are popping up all over the Internet, leaving many liveaboard operators tight-lipped, while traditional travel agents grumble. Have you booked a trip through such sites as diviac.com, liveaboard.com, divingspecials.com or divebookers.com? How was your experience? Did you get all the information you needed, get a good price and go home satisfied? Weíd like to hear from you. You can read the current state of play in a free article at www.undercurrent.org.
Buddy Inconvenient July 13, 2017
What do you do if you are assigned a buddy you hardly know, a buddy to satisfy that rule that every diver should dive in a buddy pair, a buddy of convenience, and that buddy decides to call the dive early, for whatever reason? Do you go up with them or wave them goodbye while you continue the dive? Write and tell us what youíd do, not forgetting to add your town and state. BenDDavison@undercurrent.org
Spare-Air Reinvented? July 13, 2017
The Scorkl is a lightweight breathing device with a demand valve and built-in pressure gauge marketed to people who want to swim underwater for around 10 minutes. We donít believe the instructions explain the difference between interstitial emphysema and pulmonary embolism, but we guess the medics will tell them later after they are rescued.
No Chums for Nat Geographic Crew July 13, 2017
The Orange County Register reported in mid-June that maritime authorities had stopped a National Geographic film crew from baiting for great white sharks within 100 yards of the coast of Long Beach during an attempt to get spectacular footage. In late April, a woman was severely injured by a shark while swimming at San Onofre State Beach, and now it seems media companies might be chumming to create the very news they hope to report.
What you Missed in Undercurrent for July July 13, 2017
Diving the Tua Motu of French Polynesia . . . The Hazards of Touching a Dolphin for both You and It . . . Trouble Seeing Your Gauges? . . . Use the 24-Hour Rule to Your Advantage . . . Donít Wash That Wound with Sea Water . . . New Amphibious Cameras . . . The Florida Shark Diving Saga Continues . . . Better to Have It and Not Need It . . . and much, much more.
Eight Great Liveaboards (and One Disaster) and Eight Great Dive Resorts (and One Dog) July 13, 2017
These two 40-page books are yours with your trial subscription to Undercurrent, the ad-free guide for serious divers, in our 42nd year of publication. You can download them or, if you live in the US or Canada, Iíll mail you hard copies. Iíve pulled together first-hand reviews from our best travel writers who pay their own way and never disclose themselves. Then, each month, with your subscription, you will receive in your mailbox our 20-page, advertisement-free, issue of serious articles on safety, equipment, and all diving matters, as well as no-holds-barred travel reviews. And if you decide you donít want Undercurrent, Iíll refund your payment and both books are yours to keep, as my thanks for trying us.

Sign up here for a $19 a seven-month trial subscription.
Ben Davison, editor/publisher
Contact Ben
-----------------------------------------------------------------------------
Note: Undercurrent is a registered 501(c) (3) not-for-profit organization donating funds to help preserve coral reefs. Our travel writers never announce their purpose, are unknown to the destination, and receive no complimentary services or compensation from the dive operators or resort.
I want to get the full story! Tell me how I can become an Undercurrent Online Member and get online access to the complete articles from current and back issues of Undercurrent as well as thousands of first hand reports on dive operations worldwide

Highlights of Previous Online Updates
*
Here are past Online Update emails sent out . You can sign-up for free to receive these in the future here.
* Sometimes referred to as Upwellings