Your Guide to Diving Indonesia
including Komodo, Raja Ampat, Lembeh, Wakatobi, Papua
All of Undercurrent's information on diving Indonesia, including articles, reader reports, Chapbook sections, ...
Diving Indonesia Overview
The island nation of Indonesia covers an arc more than 3000 miles across the tropics from Pulau Weh in the far West to West Papua in the East. Good diving at Pulau Weh is accessed via Banda Aceh.
Diving parts of Indonesia is near the top of most serious diver's wish list -- it has become the hottest dive destination on the planet, thanks to superlative and varied diving. Good airfares and inexpensive food and hotels make it reachable for many Americans who can afford at least two weeks time with domestic airlines usually hubbing through Jakarta.

When diving in eastern Indonesia, many avail themselves of Bali's Denpasar airport and Bali's culture. Even the diving is good at both Nusa Penida and on the north coast at Tulumben. Denpasar-based liveaboards regularly visit the excellent diving near and around Komodo and Rinca islands and stage land visits with the famed Komodo dragons. The Lembeh Strait is renowned for muck diving, and underwater macro photographers visit again and again.
Perhaps no more diverse marine life exists anywhere than that around the Bird's Head Peninsula and Raja Ampat islands, part of West Papua, which shares the same land mass as Papua New Guinea (PNG). More than 40 liveaboards are now licensed for Raja Ampat and most based in Sorong. Now there's a choice of land-based dive resorts too. Check with the U.S. State Department before travel, but nearly all Indonesia diving is far from terrorist' targets.
Indonesia Seasonal Dive Planner
The thousands of Indonesian islands are spread out over a mainly equatorial tropical climate, but the season for diving Indonesia is as complex as everything else about this diverse amalgam of a country. Your diving Indonesia experience will probably be enhanced if you plan around the wet monsoon season, generally December through the middle of March, in many areas, though Raja Ampat diving is generally better and more popular then due to calmer seas. The dry monsoon of southeast winds curtails the diving in Flores during July and August. The Moluccas, however, have their wet monsoons the reverse of everywhere else, in July and August, and diving should be avoided then. Depending on your specific destination, April-May and September are the best all-around months to dive Indonesia (except Raja Ampat as noted).

Borneo/Kalimantan: Malaysia's Sipadan Island is famous for its large year-round population of green turtles, with the highest concentration in August, when there's a whole lot of mating going on.

The island is limestone and sand with no rivers, so runoff has little effect on water clarity. However, water clarity seems as unpredictable as the currents. After a heavy lightning storm off in the direction of the mainland, the water visibility can drop dramatically from 100ft (30m) to 50ft (15m). The ocean is roughest between November and February. The best season is between April and September, but diving is year-round.

Layang Layang is a remote reef with only an airstrip, so there is no run-off, but occasional squalls of heavy rain can be intense and reduce surface visibility to almost zero, so take a visible surface marker.

Kalimantan forms the greater part of the island of Borneo and is part of Indonesia. The diving is mainly on the east coast and weather patterns are similar to the rest of the island, but big rivers can cause run-off that reduces visibility during the rains.

Featured Links from Our Sponsors
Interested in becoming a sponsor?

Reef & Rainforest
is an agency for travelers that scuba dive. Looking for Biodiversity, critters, Komodo, Raja Ampat, temples? We specialize in adventures to Indonesia.
Diving Indonesia Reader Reports and Feature Articles
Attention!
Undercurrent Online Member
to view the complete members-only reports and articles.

Some articles that can be fully accessed by the public
have a

button..

Latest Reader Reports from Indonesia

from the serious divers who read Undercurrent
All 10,000+
Reports
Dive Damai Report in Indonesia/Banda Sea/Raja Ampat
"Forgotten Islands, Banda Sea & Raja Ampat Oct. 2023"
filed Nov 29, 2023 by Beth Gregory (Experience: 501-1000 dives)

This trip, my second trip aboard the Damai II, exceeded my first trip in 2018 (Raja Ampat itinerary) and that was a great trip! This tr... ... Read more

---

Dive Concepts/Amed / Tulumben / Menjangan Report in Indonesia/Bali
"Back to Bali for a dive"
filed Nov 28, 2023 by Andrew Falconer (Experience: 501-1000 dives, 51 reports, Top Contributor )

Normally I only use Bali as a transit stop on the way to some of the other diving destinations in Indonesia, but this time I decided to... ... Read more

---

Papua Diving/Sorido Bay resort Report in Indonesia/Sorido bay, papua
"Excellent diving especially for photography"
filed Nov 27, 2023 by robert h Neff (Experience: 501-1000 dives, 3 reports, Reviewer )

There r many life aboards in area. Most r stout wooden vessels. We did see one that looked to have its own chopper pad. Maybe Jeff Bezo... ... Read more

---

Eco Divers/White Sands resort Report in Indonesia
"Great helpful people"
filed Nov 27, 2023 by ALES JESIH (Experience: Over 1000 dives)

My wife and myself were already diving with Eco divers last year and we were so happy with their service and with great Lembeh muck div... ... Read more

---

Dive Damai Report in Indonesia/Raja Ampat
"Damai 1 - Kaimana to Ambon"
filed Nov 27, 2023 by Chris Hardham (Experience: 501-1000 dives, 3 reports, Reviewer )

I was on a 10-day trip that started in Triton Bay and ended in the Banda Sea. I would first like to say the crew on Damai 1 was very ac... ... Read more

---
Complete Articles Available to Undercurrent Online Members; Some Publicly Available as Indicated

Diving Indonesia Articles - Liveaboards

Two Liveaboards Capsize and Sink in April, 5/23
Raja Ampat Explained, 4/23
Damai II, Raja Ampat, Indonesia, 4/23
Bahamas, Turks and Caicos, Raja Ampat, Belize, live reefs, dead reefs, liveaboards, shore diving, 3/23
Manta Populations Improve , 2/23
A Painful Ear Infection from Polluted Indonesian Seas , 2/23
Raja Ampat, St. Lucia, Rangiroa, Vancouver Island, some great diving, some questionable characters, 11/22
Indonesia Begins to Reopen for Diving Trips – Maybe Not!, 11/21

Available to the Public
Raja Ampat Explorer, Raja Ampat Indonesia, same stunning reefs, same fish, one-third the price, 10/19
Too Many Divers in Raja Ampat?, how "Instagram Tourism" is ruining dive destinations, 9/19
Dragon Smugglers Forcing a Shutdown of Komodo Island, 5/19
Why You Had Better Confirm Your Flight Itinerary, 4/19
Caymans, Cuba, French Polynesia . . ., plus hurricanes, shark dives and two remote sites worth the trip, 11/18
KM Blue Manta, the Banda Sea, Forgotten Islands, Alor, a thousand miles of pristine Indonesian diving, 2/18
WAOW Liveaboard a Total Loss, 2/18
Roatan, the Brac, Sulawesi, Fiji …, and a lot of bad diving behavior, 11/17
MV Pelagian, Wakatobi, Indonesia, near perfection, but with safety glitches, 5/17
Pelagian and Fantasea II – A Bit of Diving History, 5/17
Belize, Vieques, Indonesia, Molokai, Christmas crowds, lousy food, white tips and mantas, 4/17
Dewi Nusantara, Komodo, Indonesia, luxurious living, remarkable diving, 11/16
Raja Ampat; The Top Resorts and Liveaboards, possibly the best diving in the world?, 7/16
Snorkler Mauled to Death in Raja Ampat by a Dinosaur, 5/16
Nudibranch and Sea Slug Identification: Indo-Pacific, 2/16
Arenui, Alor Archipelago, Indonesia, a unique critter haven, but a notch below luxury, 8/15
Little Cayman, Cocos, Palau, PNG . . ., great liveaboard picks, and a sailfish slaughter in Guam, 6/15
Fiji, Iceland, Maldives, Raja Ampat, trouble in Cozumel, a bad critter-handling policy in Kauai, 5/15
A "Too Exclusive" Island in Indonesia, liveaboards banned from a region twice the size of Raja Ampat, 9/14
Damai I, Raja Ampat, Indonesia, luxury at a big, big price, 6/14
Baja California, Fiji, Montserrat, pesky politics and squirrely harbormasters, 4/14
Maldives, Hawaii, Indonesia . . ., some dive operators who need to change their rules, 11/13
WAOW, Indonesia, fiery volcanoes, dangerous dragons and colorful diving, 7/13
Why Some Indonesia Liveaboards Don't Take Credit Cards, 6/13
Reef Fish of the East Indies, and the recent controversy caused by a photo of the authors, 10/12
Problems with the Siren Fleet, divers must evacuate two liveaboards in less than six months, 7/12
Raja Ampat Liveaboard Goes Down in Flames, 2/12
Arenui, Komodo Island, Indonesia, here there be dragons - - and fish big and tiny, 11/11
The Komodo Dragons, 11/11
Two Reads on Raja Ampat, 11/11
Thumbs Down: Wakatobi's Bad Behavior, and thumbs up for the Aggressor's honorable behavior, 9/11
The Raja Ampat Explained, what you must know before you go, 8/11
Curacao, Fiji, Papua, Maui . . ., dive sites where you can expect the unexpected, 4/11
S/V Mandarin Siren, Raja Ampat, Indonesia, and a starter with Bali's AquaMarine Diving, 3/11
The Raja Ampat Debate, 3/11
Why You Need Undercurrent, we really give you the truth about "undiscovered" dive sites: Florida, Borneo, Grand Cayman …, 10/10
Dive Kararu and the Seahorse Break Ties, Exchange Words, Offer Deals, 8/10
Archipelago Adventurer II, Indonesia, Raja Ampat: where one feels like a king, 6/10
At Indonesia's Triton Bay, the Locals Are Restless, 6/10
Diving Raja Ampat, 1/10
What? On a Liveaboard With No Passport?, 9/09
Cheng Ho, Raja Ampat, Indonesia, the diving is great, but the boat needs work, 6/08
Raja Ampat Liveaboard Update, 6/08
Indonesian Liveaboard Update, what boats are coming, going, disappointing and enchanting, 10/07
The Pelagian, Wakatobi, Indonesia, mediocre food and few fish aren't worth the high price, 8/07
SMY Ondina, Raja Ampat, West Papua, the center of the diving universe, 7/07
Other Raja Ampat Liveaboards, 7/07
What Happened to Larry Smith's Liveaboard?, 6/07
North Sulawesi Aggressor, Sulawesi Sea, Indonesia, mucking about for critters, 2/07
Pelagian Alert, 8/05
The Next "Best Destination in the World?", and a few not worth visiting, 8/05
Komodo Liveaboards, Indonesia, can it get any better?, 2/03
Chasing the Dragons of Komodo, Aboard the Sea Contacts I from Bali to Komodo, 9/99
At the Edge of the World on the Pindito, A big ship for a few good divers, 5/97
Fighting Off Malaria Baruna Adventurer, 8/96
Serenade in Indonesia, 4/95
Komodo Island, Aboard the Komodo Plus, not for everyone, but …, 3/94

Diving Indonesia Articles - Land Based

Little Cayman, Maui, Raja Ampat, Texas Oil Rigs , thresher sharks, dying reefs, barefoot elegance, 9/23
Misool Resort, Raja Ampat, Indonesia, 4/23
Komodo Resort; Kalimaya Resort; Indonesia, from very good to great, two hours apart, 3/23
Wakatobi Dive Resort, Sulawesi, Indonesia, world-class diving, world-class dive resort, 1/23
The Caribbean, Palau, Fiji and the Philippines, readers report and it's not always plain sailing, 10/22
Undercurrent is Saving Olive Ridley Turtles, 7/21

Available to the Public
What's With the Star Chart?, 4/20
Sorido Bay Dive Resort, Raja Ampat, Indonesia, luxury in the heart of a fabled dive region, 3/20
Is that Aquarium Coral Farmed or Wild Coral? You Can't Tell, 3/20
Two Fish Divers, Lembongan; Alam Batu, Bali, Indonesia, two destinations, one for reefs, one for muck, 2/20
Belize, Little Cayman, the Conflict Islands, bedbugs, tiny bunks, and an unknown gem, 2/20
Raja Ampat, Bonaire, Maldives, Cozumel . . ., and endless trash spilling into the water, 7/19
Want to Buy a Dive Center or Liveaboard?, we found a few, if you're looking for something new to do, 7/19
Cozumel, Raja Ampat, Cuba, Grand Turk . . ., plus advice on wetsuits and resort options for older divers, 5/19
Siladen Resort and Spa, Indonesia, a tranquil place where "chill" dives are the main thrill, 10/18
Bonaire, Cozumel, Cuba, Fiji, Palau . . ., spear tossers, baggage restrictions and thieving crews, 9/18
Help Indonesia Recover from Earthquake Disaster, 9/18
Alami Alor, Pulau Alor, Indonesia, luxury resort, luxurious reefs, reasonable prices, 7/18
Nicaragua, Lembeh, Thailand, Florida, Socorro, Unusual dives, cheap flights, a new resort, 5/18
Will East Timor Become a Popular Diving Destination?, 5/18
Two Fish Divers, Lembeh and Bunaken, Indonesia, a two-resort budget combo with tip-top diving, 4/18
Diving in Lembeh Can Be Infectious!, 4/18
Get Bent and Who is at Fault?, 2/18
Bali Disaster Pending?, 10/17
Ambergris, the Red Sea, Raja Ampat, bad briefings, free flowing regulators, overflowing toilets, 9/17
Villa Markisa, Tulamben, and Bali, Indonesia, spend a fortune or a pittance, 8/17
Papua Explorers, Raja Ampat, Indonesia, well worth the time and expense, 3/17
Dive Into Ambon; Maluku Resort & Spa, Indonesia, a psychedelic experience without drugs, 2/17
Considering a dive trip to Indonesia?, these resorts merit your consideration, 4/16
Diving In Indonesia – How to Plan your Trip, 4/16
Komodo Resort Diving Club, Indonesia, exciting diving at budget prices, 3/15
Cozumel, Roatan, South Africa . . ., dive with a "Shadow Diver," or in a Las Vegas show, 11/14
Wakatobi Dive Resort, Indonesia, its pricey personalized service has some flaws, 10/14
Geko Dive, Bali, Indonesia, five-star muck and reef diving for all budgets, 8/14
NAD-Lembeh Resort, Indonesia, great critters, great people, great prices, 7/14
Two Deaths at One of Indonesia's Most Dangerous Dive Sites, 3/14
This Dive Resort is Taking a Stand, its no-take zone initiative is setting a global standard, 1/14
Seeking More Exotic Diving?, how about Russia, the Sardine Run, or an underwater cemetery?, 10/13
Bikini Atoll, Hawaii, Raja Ampat…, and one reader's Hurricane Sandy dive trip, 11/12
Raja Ampat Dive Lodge, Indonesia, not all the great diving here is only by liveaboard, 9/12
British Virgin Islands, Utila, Raja Ampat, serious inflator problems, credit card ripoffs, 5/12
Australia, Grand Cayman, Philippines . . ., and when it's really the best time to dive in Raja Ampat, 11/11
Gangga Resort, Manado, Indonesia, reefs, muck and luxury living, 1/11
The Coral is Fine at Wakatobi, But Elsewhere..., 10/10
Saipan, Statia, Lake Malawi, Key Largo..., reports from the back of beyond from "undercover" readers, 7/10
Thailand Violence Affects Lembeh, 6/10
Caribbean, Hawaii, Indonesia, Red Sea…, hidden travel charges, Hawaiian fish, and a good Caribbean site, 8/09
Indonesia, St. Lucia, Vietnam, Hawaii . . ., blah Caribbean and Nam dives, great ones with sharks and seals, 6/09
A Different Experience at Wakatobi Resort, 8/07
A Second Opinion of Kungkungan Bay Resort, 6/07
Kungkungan Bay Resort, North Sulawesi, Indonesia, a letdown on Lembeh Strait, 3/07
New Lodges around Lembeh, 3/07
Infection Warning, 2/07
Lembeh Resort, North Sulawesi, Indonesia, the best critter diving in the world?, 9/04
North Sulawesi, Indonesia, diving by land and sea, 8/04
Sipadan Dive Operators Evicted, 7/04
Raja Ampat Islands, Indonesia, is this the world's best diving?, 9/03
The Dragons, 2/03
Wakatobi in the Tukang Besis, Because it's there, and because Jacques liked it, 10/97
Looking over the Edge, Backpacker diving in Lombok, Indonesia, 3/97
Kungkungan Bay Resort, 6/96
Derawan Dive Resort, 6/96
Return of the Cehili, 2/95
Diving in Indonesia, 3/94
Indonesian Intrigue, 7/88
Pulau Putri; Bali, Indonesia; West Palm Beach, FL, Double Doubts About Divemasters, 4/83
Indonesia Sections from Our Travelin' Diver's Chapbooks
Reader Reports filed for that year
Editor's Book Picks for Scuba Diving Indonesia
including Komodo, Raja Ampat, Lembeh, Wakatobi, Papua
The books below are my favorites about diving in this part of the world All books are available at a significant discount from Amazon.com; just follow the links. -- BD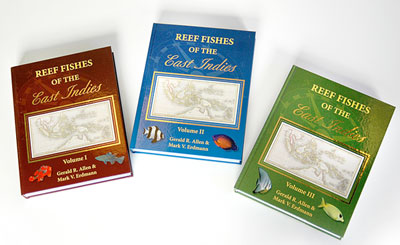 Reef Fish of the East Indies
by Gerald R. Allen and Mark V. Erdman
It's got a list price of $250 and a weight of 14 pounds, but the price and the poundage will be worth it to add this three-volume set to your library. Renowned marine biologists Gerald R. Allen and Mark V. Erdman have combined 60 years of surveys, fieldwork and research to create the most definitive guide of the Coral Triangle to date, perhaps forever. The 1,292 pages of text and 3,600 photographs (40 percent of which are of fish not seen before in print) gives comprehensive information on every known reef fish species from a region known as the global epicenter of marine biodiversity. An essential reference for any scuba diver.
Click here to buy it at Amazon.
---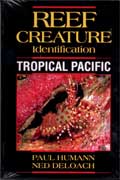 Reef Creature Identification: Tropical Pacific
by Paul Humann and Ned Deloach
Paul Humann and Ned Deloach have done it again, releasing a definitive identification guide to 1600 extraordinary reef creatures of the Tropical Pacific. with this 500+ page softbound guide, you get upwards of 2000 exceptional photos of shrimp and crabs and stars and worms and lobsters and nudibranchs and slugs and squid and bivalves . . . well, all those invertebrates that move along the reefs of this region without fining, so it seems. There are several photos of some creatures to help you identify them during different life stages, and about ten percent of the book is descriptive copy so you can tie down your identification. Even if you have no plans to go to the tropical Pacific, just to thumb through the pages, gawk at the complexity and uniqueness of these animals, and read a thumbnail sketch will give any serious diver vicarious thrills for endless hours.
Click here to buy it at Amazon.
---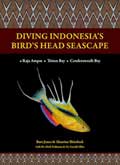 Diving Indonesia's Bird's Head Seascape
by Burt Jones and Maurine Shimlock
This dynamic duo's book describes 130 dive sites of Raja Ampat, Triton Bay and Cenderawasih Bay, while offering practical information about the area. The detailed descriptions of the sites, complete with GPS coordinates, explains the terrain, how to dive the site, and the kinds of animals, coral and critters you can expect. Excellent photographs will help you identify many of the critters you will encounter.

If you have been to Raja Ampat, or dream about going, this thoughtful and well-illustrated book is for you.

The book is not available at the moment.
---

Diving Southeast Asia
by Beth & Shaun Tierney
This just-published, 302-page, soft-bound guide by Beth and Shaun Tierney, is a must for anyone contemplating diving in Indonesia, Malaysia or Thailand. Where is Sipadan? Raja Ampat? Komodo? Richeliu Rock? Maps make it easy to pinpoint dive destinations and travel routes. Destination and 250 dive site descriptions (with tables on depth, visibility and currents) help you determine whether you'll see big fish in the blue or pygmy seahorses in the muck. There's a lot of supplemental information such as travel tips, health tips, and resorts and liveaboard descriptions.

Click here to order through Undercurrent and you'll get Amazon's best price -- and our profits will go to save coral reefs.
---

Indo-Pacific Coral Reef Field Guide
by Gerald R. Allen, Roger Steene.
I was trying to pack light for a change. Surely the Solomon Sea would have good identification books aboard. Not so; the only book on the boat belonged to a fellow passenger. It was one that I had not seen before, the Indo-Pacific Coral Reef Field Guide, by two of the best fish guys around, Gerry Allen and Roger Steene. The problem was this fellow passenger kept it in a plastic baggie most of the trip and I had to beg to see it. Great book, good traveling size, and it covers everything from fish, shells, marine plants, mammals, corals, and invertebrates to sea birds and more. Now I've got my own, and it won't do you any good to beg me to borrow it. This is one of two books that I will not travel to the Pacific without. Good for travel to the Red Sea, East Africa, Seychelles, Mauritius, Maldives, Andaman Sea, Malaysia, Indonesia, Philippines, Australia, Micronesia, Polynesia, and Hawaii, it has 1,800 color illustrations in a 6x8 1/2 paperback format with 378 pages. $39.95.
---

A Diver's Guide to Underwater Malaysia Macrolife
by Andrea and Antonet La Ferrari
We just discovered the ultimate guide to Indo-Pacific macro life. It was published late last year by marine photographers and writers Andrea and Antonet La Ferrari, who have several other winning books in their portfolio. They picture and describe in full detail 600 different species, focusing on those found in the South China, Sulu, and Sulawesi seas. From colorful nudibranchs to cleaner shrimps and pipe fish, to larger species like cuttlefish and clown fish. Each description offers an insight on distribution, habitat, size, life habits, and U/W photo tips. Illustrated with more than 800 extraordinary color photographs and written in a clear, concise, informative style, this book is both a macro and fish field guide for all serious divers from the Maldives to Australia. A must for traveling divers.
Click here to buy it at Amazon.
---

Reef Fish Identification: Tropical Pacific
by Gerald Allen, Rodger Steene, Paul Humann, & Ned Deloach
At last, here's a comprehensive fish ID guide covering the reefs of the Pacific and Indian Oceans. The generous 500-page text, displaying 2,500 underwater photographs of 2,000 species, identifies the myriad fishes that inhabit the warm tropical seas between Thailand and Tahiti. The concise text accompanying each species portrait includes the fish's common, scientific and family names, size, description, visually distinctive features, preferred habitat, typical behavior, depth range, and geographical distribution. This is an essential book for every diver traveling westward. 6x9 inches.
Click here to buy it at Amazon.
---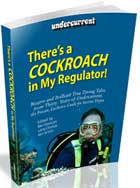 There's a Cockroach in My Regulator
by Undercurrent
The Best of Undercurrent: Bizarre and Brilliant True Diving Tales from Thirty Years of Undercurrent.

Shipping now is our brand new, 240-page book filled with the best of the unusual, the entertaining, and the jaw dropping stories Undercurrent has published. They're true, often unbelievable, and always fascinating. We're offering it to you now for the special price of just $14.95.

Click here to order.
---
You might find some other books of interest in our Editor's Book Picks section.