Your Guide to Diving Galapagos Islands
including all of Ecuador
All of Undercurrent's information on diving Galapagos Islands, including articles, reader reports, Chapbook sections, ...
Diving Galapagos Islands Overview
These islands made famous by Darwin are located at the confluence of three powerful ocean currents, so although they are at the equator, the climate is equable. The Galapagos is the naturalist's dream destination, above and below the surface, with all sorts of big fish action, and the remarkable life on each island. Several excellent liveaboards cover the area, and the best high-voltage diving is to be found 150 miles from the main group at Darwin and Wolf Islands. The water is cool and the currents powerful, so a warm wetsuit (7mm) and hood, and a reef hook are essential. Currents go up and down, and there are big ocean swells so a drysuit can be hard to control.
Galapagos Islands Seasonal Dive Planner
The water temperature is generally about 70°F (21°C) from January to April (the rainy season) and about 66°F (19°C) the rest of the year. Land temperatures also rise during the rainy season, resulting in some uncomfortably hot weather (average daily high is 88°F (31°C), but it can get much hotter). Otherwise, the climate is equable. Visibility tends to drop during the rainy months of February, March, and April. Best months for diving are December and January, then again in May and June. October is probably the worst month since it could be cold and windy. More whale shark sightings are reported during May and June.
Diving Galapagos Islands Reader Reports and Feature Articles
Attention!
Undercurrent Online Member
to view the complete members-only reports and articles.

Some articles that can be fully accessed by the public
have a

button..

Latest Reader Reports from Galapagos Islands

from the serious divers who read Undercurrent
All 10,000+
Reports
Galapagos Master Report in Galapagos Islands
"Very Good Diving Despite Catching Covid"
filed Feb 24, 2022 by David Marchese (Experience: Over 1000 dives, 16 reports, Contributor )

This was our 3rd Galapagos liveaboard trip, but the first outside of "whale shark season." We were hoping to see more hammerheads, more... ... Read more

---

Calipso Report in Galapagos Islands
"Mind blowing experience"
filed Feb 10, 2022 by Richard Mertz (Experience: 501-1000 dives, 3 reports, Reviewer )

Diving was spectacular and nothing like i have done before. A lot of go down and hang on/sit to watch the show. From Hammerheads galor... ... Read more

---

Andean Travel Co. Boat: Aqua (aka Pinguino Explore Report in Galapagos Islands/Darwin Wolf other islands
"Megamart of marine life lives up to the hype and challenging diving"
filed Feb 5, 2022 by Dani (Experience: 101-250 dives)

Boat: https://andeantc.com/yacht-aqua Boat is also known as Pinguino Explorer and that is its name on the Galapagos traffic control ... ... Read more

---

Galapagos Shark Diving/Ship: Pinguino Explorer Report in Galapagos Islands/7 locations including Darwin
"Incredible experience, two years in a row."
filed Dec 2, 2021 by Gene Swacker (Experience: 501-1000 dives, 2 reports)

Galapagos had been on my diving bucket list for many years and I've now gone there two years in a row. In 2020, the country and the is... ... Read more

---

Master Galapagos Report in Galapagos Islands/Darwin, Wolf, Fernandina, San
"An EPIC Adventure"
filed Dec 1, 2021 by Kayla Koeber (Experience: 501-1000 dives, 3 reports, Reviewer )

EPIC. Two back to back 7 day trips with Richard Salas / Ask Photography leading both. www.richardsalas.com Get on one of his trips i... ... Read more

---
Complete Articles Available to Undercurrent Online Members; Some Publicly Available as Indicated

Diving Galapagos Islands Articles - Liveaboards

The Pacific Quartet, the Caribbean, and Great Whites, we're getting back in the water, 11/21
Galapagos Migratory Sharks Threatened by Giant Chinese Fishing Fleet , 10/21
Understand Your Diving Computer, a Galapagos diving incident, 9/21
Galápagos, 6/19
The Cocos-Galapagos Swimway for Turtles and Sharks, 2/19

Available to the Public
A Creative Way to Create Marine Parks and the U.S. Must Step Up, 4/18
Belize, Vieques, Indonesia, Molokai, Christmas crowds, lousy food, white tips and mantas, 4/17
When Things Go Wrong…, Undercurrent readers disagree on cancellation compensation, 7/16
A Galápagos Meltdown, bitter disappointment far from home, 6/16
Galapagos Sky, Galapagos Islands, where the wild things are, 2/16
Legal Charges Scuttle Galapagos Liveaboards, a lawyer provides his explanation of the Buddy Dive drama, 4/14
Buddy Dive Shut Down in the Galapagos, 2/14
Galapagos Aggressor I Runs Aground, equipment or human error? the Fleet's not saying, 8/13
Bonaire, Fiji, Galapagos, Roatan, great examples of customer service - - and one resort to avoid, 9/11
Peter Hughes Leaves Peter Hughes Behind, 6/10
Death in the Galapagos, a fatal first dive that wasn't fit for not-so-advanced divers, 5/10
The Eric, Galapagos Islands, Ecuador, the "dive lite" version with energetic surface intervals, 4/08
Aquatic Encounters Is Taking a Sabbatical, 4/08
Galapagos Liveaboards Shut Down, 9/07
Serious New Regulations in the Galapagos Islands, 1/07
Sky Dancer, Galapagos, Ecuador, superlative sensory overload, 2/06
Five Well-Rated Galapagos Live-aboards, 2/06
In the Galapagos aboard the Sulidae, 9/96
Lammer Law, 6/95
Galapagos Islands Sections from Our Travelin' Diver's Chapbooks
Reader Reports filed for that year
Editor's Book Picks for Scuba Diving Galapagos Islands
including all of Ecuador
The books below are my favorites about diving in this part of the world All books are available at a significant discount from Amazon.com; just follow the links. -- BD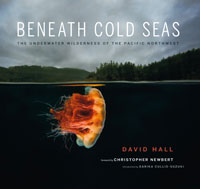 Beneath Cold Seas: The Underwater Wilderness of the Pacific Northwest
by David Hall
It's hard enough to take a first-rate photo of reef life in the best of conditions. Try doing it in murky, bone-numbingly cold water while wearing a dry suit with 40-plus pounds of weights around your waist, and thick, insulating gloves that make it hard to use the camera controls. That's what David Hall had to endure while photographing in Canadian waters, but those physical disadvantages make Beneath Cold Seas all the more amazing.
Hall's book successfully disputes the belief that cold-water reefs are drab and dismal. He has regularly photographed the world's most beautiful dive spots for major magazines from National Geographic to Time. While Hall's shots are taken entirely at Browning Passage in British Columbia, the reef life he shoots resides along the Pacific Coast, from Northern California up to Alaska, and they are as diverse and spectacular as any creature in Raja Ampat or Fiji.
Click here to buy it at Amazon via our website -- our profits go to save the reefs.
---

Reef Fish Identification: Baja to Panama
by Paul Humann and Ned Deloach
The latest edition in the popular Paul Humann series of marine life books. The most comprehensive field guide ever compiled for identifying reef fishes from the Gulf of California to the Pacific coast of Panama, including offshore islands. More than 500 photographs of 400 species taken in their natural habitat. The book is dedicated to Baja Legend Alex Kerstitch and includes several of his drawings and photographs. The concise text accompanying each species portrait includes the fish's common, scientific and family names, size range, description, visually distinctive features, preferred habitat, typical behavior, depth range, and geographical distribution.
Click here to buy it at Amazon.
---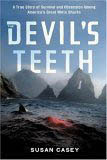 The Devil's Teeth: a true story of Obsession and Survival among America's Great White Sharks:
by Susan Casey
Perhaps the greatest gathering of great white sharks in the world is at the Farallon islands, 26 miles from San Francisco. Researchers have tracked and studied them for years and at least one diver still collects sea urchins in the midst of their gatherings. Journalist Susan Casey lived on these barren islands to write a fascinating, awe-struck account of the sharks, their amazing behavior, their killing strategies, their long distance travels, and life with the researchers. Click on this Undercurrent link to purchase the 304-page, hardbound, The Devil's Teeth at Amazon.com's best price, and all our proceeds will go to coral reef conservation.
---

An American Underwater Odyssey: 50 Dives in 50 States
: by Charles Ballinger.
Underwater Odyssey is the story of a scuba diving safari to every state in America. Tired of touring coral reefs, the author embarks on a year-long quest to discover the incredible assortment of adventure diving found in our nation's backyard. His dogged determination to follow his dreams and explore everything from flooded missile sites to abandoned mines should be an inspiration for any diver. Underwater Odyssey transcends the limits of a dive guide to reveal the broader adventure that diving provides.
Click here to buy it at Amazon.
---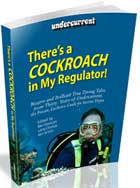 There's a Cockroach in My Regulator
by Undercurrent
The Best of Undercurrent: Bizarre and Brilliant True Diving Tales from Thirty Years of Undercurrent.

Shipping now is our brand new, 240-page book filled with the best of the unusual, the entertaining, and the jaw dropping stories Undercurrent has published. They're true, often unbelievable, and always fascinating. We're offering it to you now for the special price of just $14.95.

Click here to order.
---
You might find some other books of interest in our Editor's Book Picks section.