Divers Prosecuted for Recovering Long-line
Rude Underwater Photographers?
Fancy Diving the RMS Titanic?
Shark Bite in Hawaii
If You Find It Hard to Breathe from Your Regulator
Call For Underwater Movie Submissions
Judge Tosses Manslaughter Charge
$12,000 Fine for Diving with Orcas
Turks & Caicos Hurricane
This Month's Undercurrent a Big Issue
Why You Should Subscribe to Undercurrent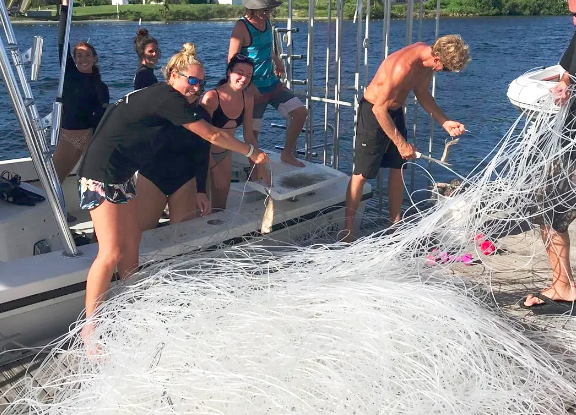 Divers Prosecuted for Recovering Long-line. September 23, 2022
It may be the scourge of marine life, but two Florida divers were indicted for larceny after they dragged a long line with about 150 hooks aboard their shark-diving boat. John Moore, Jr., 56, and Tanner Mansell, 29, who were aboard Moore's shark-diving charter vessel in August 2020, reported their activity to the Florida Fish and Wildlife Conservation Commission (FWCC) but are now being prosecuted for their efforts. Read the full story in October's Undercurrent.
Rude Underwater Photographers? September 23, 2022
Last month we wrote about rude divers, but what about photographers? Underwater photography has developed a competitiveness in what was initially not a competitive sport. Some treat collecting macro subjects on their memory cards like hoarding Mickey Mantle baseball cards. It can lead to some unfortunate encounters, especially with those with video cameras who want to linger with a subject. Have you had a bad experience thanks to an underwater photographer? We want to hear about it. Write to BenDDavison@undercurrent.org, not forgetting to add your town and state.
Fancy Diving the RMS Titanic? September 23, 2022
Ocean Gate Expeditions runs submersible craft expeditions to the 110-year-old wreck with crews of Titanic historians and research scientists. It will only set you back $250K for the privilege. If you're on a budget, you can watch the company's high-clarity 8k footage on YouTube, including moving images of the debris field. https://www.youtube.com/watch?v=i194pzJc3fk
Shark Bite in Hawaii. September 23, 2022
A shark critically injured a 51-year-old French woman snorkeling at Hawaii's Pia Beach Park in Maui on September 5. In March, a six-foot Galapagos shark in the same park bit a scuba diver on the foot. Tiger sharks are sneaky, too: Andriana Fragola, a marine biologist, was scuba diving off the coast of Hawaii recently when she was forced to push back an approaching shark whose jaw was gaping open. A shark safety diver, she shared the video with her 29,000 Instagram followers to demonstrate the underwater creatures' unpredictability.
If You Find It Hard to Breathe from Your Regulator, September 23, 2022
you could be in the initial stage of immersion pulmonary edema (SIPE), a killer of divers. We wrote about it in the September issue of Undercurrent. It's a serious medical condition that can affect the fittest diver if you become susceptible to it. Medical opinion now ascribes SIPE to many unexplained drowning deaths of divers.
Call For Underwater Movie Submissions. September 23, 2022
The International Ocean Film Festival is accepting film submissions for its 20th annual event at the Fort Mason Center for Arts & Culture in San Francisco, CA. The deadline is December 15, 2022. https://filmfreeway.com/IOFF2023
Judge Tosses Manslaughter Charge. September 23, 2022
A Los Angeles federal judge threw out an indictment charging Conception skipper Jerry Boylan with manslaughter in the deaths of 34 people in the 2019 Labor Day fire aboard the vessel out of Santa Barbara and anchored at night off the Southern California coast. Boylan (68) was charged with misconduct, negligence, and inattention, for which he entered a not-guilty plea. The indictment failed to specify that Boylan acted with gross negligence. Family members of seven of the victims said in a statement that they were stunned by the decision.
$12,000 Fine for Diving with Orcas. September 23, 2022
Thomas Gould, a British Colombia, Canada, resident, and owner of the commercial dive vessel Ice Cube, has received a record fine for getting too close to orcas near Prince Rupert Harbour in April 2020. In full scuba gear, Gould entered the water on two different occasions after his vessel got close to a pod of seven resident killer whales, contrary to Canada's Marine Mammals Regulations. The orcas have been regular visitors for more than a decade, and signage posted in the area indicates mandatory minimum approach distances. It is also illegal to swim, dive, or interact with them.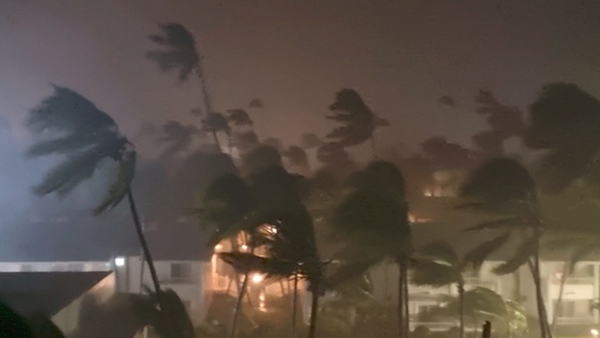 Turks & Caicos Hurricane. September 23, 2022
Hurricane Fiona with sustained winds of 110mph has traveled across the Caribbean area, with the islands of the Turks & Caicos directly in its path and clipping the southern islands of the Bahamas. Life-threatening flash floods are reported in the Dominican Republic and Puerto Rico. The government of Turks & Caicos was communicating with the British Royal Navy and U.S. Coast Guard. The British Navy patrol vessel HMS Medway arrived on Tuesday night to help with rescue efforts. If you are headed to any of these destinations, check with your operator and accommodation provider first.
This Month's Undercurrent a Big Issue: September 23, 2022
Primo macro photos at the Atmosphere Resort, Philippines . . . COVID still preys on traveling divers . . . What happens to your old neoprene products? . . . Update: Mexico's Guadalupe closed to great white diving . . . Diving from the Golden Rock -- St. Eustatius . . . Ferry to St. Eustatius from St. Martin? . . . How to avoid a shark attack (or not!) . . . Readers tell how rude divers can ruin trips . . . Rude divers -- a dive center's perspective . . . A Japanese dive shop apologizes . . . Your tire wear kills fish . . . Unexplained snorkel deaths in Hawaii . . . Be aware of SIPE symptoms . . . How safe are you from fire when abroad? . . . Flotsam & Jetsam . . . And much, much, more.
Why You Should Subscribe to Undercurrent: September 23, 2022
It's the whole nine yards. Undercurrent is the Trip Advisor of scuba diving. Our readers contribute to an ever-growing accessible database of dive centers and liveaboards, giving their up-to-date impressions, which include both the good and the bad. On top of that, they get 10 newsletters each year, including articles that mainstream diving media doesn't dare publish. In December, there's the Travelin' Diver's Chapbook, and every month Undercurrent sends out a news-update email, of which this is just an abbreviated sample. I am offering you a seven-month trial subscription for just $19.95. And I'll send you a FREE download of the 40 page e-books Eight Great Liveaboards (and One Disaster) and Eight Great Dive Resorts (and One Dog). If you want your money back at any time during this period, you'll get it, a promise I've kept since we started publishing in 1975. Click Here.
Ben Davison, editor/publisher
BenDDavison@undercurrent.org
-----------------------------------------------------------------------------
Note: Undercurrent is a registered 501(c) (3) not-for-profit organization donating funds to help preserve coral reefs. Our travel writers never announce their purpose, are unknown to the destination, and receive no complimentary services or compensation from the dive operators or resort.
Highlights of Previous Online Updates
*
Here are past Online Update emails sent out . You can sign-up for free to receive these in the future here.
* Sometimes referred to as Upwellings