Fire at Cozumel Hotel
It's Crazy During Florida's Two-Day Lobster Mini Season
Been Around Rude Divers? Let Us Hear From You
Understand What Your Computer Tells You
Baby Turtle Dines on Plastic
At Least Someone is Doing Something About Plastic
Komodo Only for the Well-Heeled?
Ten Caught Trafficking Corals
Goliath Grouper May Get a Break
Another Dive Resort Bites the Dust
In Undercurrent this Month
Why You Should Subscribe to Undercurrent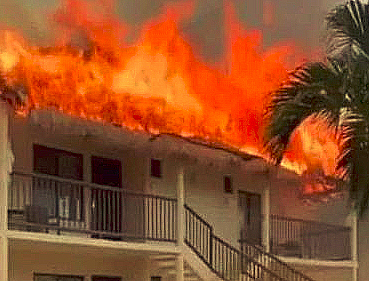 Fire at Cozumel Hotel August 15, 2022
A diver's favorite, the Allegro Cozumel, has closed after a fire in its palapas spread to the main complex. A few of the 575 guests were injured. Read more about this in the upcoming September Undercurrent issue, including their problems with fire alarms, water pressure, and more.
It's Crazy During Florida's Two-Day Lobster Mini Season August 15, 2022
Four people died, at least two while snorkeling, one perhaps struck by a boat during the two-day event. Officials found scores of people with undersized lobster -- one group of four had 27 undersized lobster -- and people hauling more lobster than permitted.
Been Around Rude Divers? Let Us Hear From You August 15, 2022
Have you ever been on a trip where rude divers affected your diving? Where, perhaps, they refused to follow direction so the captain could not go to certain dive sites? Or where they refused to make certain dives, so the captain changed the itinerary? Or they insisted on certain dives? Or they were always late, or maybe overstayed their bottom time affecting the next dive? Let us know how other divers have affected any trip you've taken. Email BenDDavison@undercurrent.org with your story, not forgetting to tell your town and state.
Understand What Your Computer Tells You August 15, 2022
Most divers try to stick to no-deco-stop times and ascend to the shallows as their displayed NDL time displayed diminishes. However, occasionally you may overstay your welcome at depth, and your computer switches displays to show a stop depth and time or minimum ascent time. Be aware of this so that you don't, at best, send your computer into SOS mode or, at worst, send yourself for emergency recompression. If you don't fully grasp this, read the instructions that came with your computer.
Baby Turtle Dines on Plastic August 15, 2022
A baby green sea turtle found lying on its back in a rock pool near Sydney, Australia, had eaten so much plastic that it took six days for it to be excreted, according to Taronga zoo's wildlife hospital. A veterinary nurse told The Guardian that once it started to defecate, no feces came out, just pure plastic. This little guy is just one of millions, if not billions, of examples of how the eight million tons of plastic that pour into our oceans destroy our wildlife.
At Least Someone is Doing Something About Plastic August 15, 2022
Volunteer divers removed 43 tons -- the weight of a commercial airliner -- of plastic and rope ghost nets from a Hawaiian Reef during the first week of August. Maro Reef is part of the Papahånaumokuåkea Marine National Monument more than 800 miles from Honolulu and lies in a shallow lagoon less than 10 feet deep. PM Debris Project volunteers recovered the ghost nets in early August.
Komodo Only for the Well-Heeled? August 15, 2022
Latest news is that the Indonesian authorities have bowed to pressure from local businesses and have put off raising the tourist entrance fee for the Komodo National Park until next January.
Ten Caught Trafficking Corals August 15, 2022
Let this be a warning if you're tempted to bring back a little bit of coral as a souvenir. In April, a federal grand jury indicted 10 people on misdemeanor charges for smuggling protected marine corals from the Philippines for retail sale. The penalties range from five to twenty years in jail and a $250,000 fine. Coral could become the most expensive thing on your mantlepiece.
Goliath Grouper May Get a Break August 15, 2022
Earlier this year, the Florida Wildlife Commission opened limited goliath grouper fishing over objections from the diving community and many others. The opponents continued to press for no fishing at spawning sites between July 15 and October 15, when spawning is most active. Noted conservationist Lad Akins, and members of Palm Beach Diving Association, made the case at the July FWC rule-making meeting, and now the FWC is proposing rules to prohibit catch and release fishing of goliath grouper at three of the 11 known spawning aggregation sites. Hopefully, they'll act in September.
Another Dive Resort Bites the Dust August 15, 2022
The Bohio Dive Resort on Grand Turk is no more, Irene Beck of Fly and Sea Dive Adventures tells us. It looks like dive travel wholesalers in North America and divers who booked directly will lose their funds and vacations. The website says "it is closed for refurbishment." Stanbrook Prudhoe on Grand Turk are the liquidators.
In Undercurrent this Month August 15, 2022
The Caribbean Explorer II at Saba, Dutch West Indies . . . . Why Subscribers' Trip Reports Are Important . . . A Bonaire Update . . . . Common Sunscreens Can Damage Coral and You Too . . . Do You Download Your Dives? Readers Tell All . . . Keeping an Important Discovery Off the Coast of England Secret . . . Opinion: Diving Accident Stats are Inaccurate . . . Let Your BC Find the Surface . . . It's a Less Than Silent World . . . Why Jacques Cousteau got it Wrong . . . So, Who Writes Undercurrent? . . . Diving Magazines' Best Diving Locations are Not Always the Best . . . Pre-Internet: Call Bob Goddess to Go Diving . . . Don't Be Reluctant to Use Air . . . The Perils of Travel in the Time of COVID . . . An Important Advance for Closed-Circuit Divers . . . PADI Responds to the Cancun Diver Fatalities . . . and much, much more.
Why You Should Subscribe to Undercurrent August 15, 2022
It's the full nine yards. Undercurrent is the Trip Advisor of scuba diving. Our readers contribute to an ever-growing accessible database of dive centers and liveaboards, giving their up-to-date impressions, which include both the good and the bad. On top of that, they get 10 newsletters each year that includes articles that mainstream diving media don't dare publish. In December, there's the Travelin' Diver's Chapbook, and every month Undercurrent sends out a news-update email, of which this is just an abbreviated sample. I am offering you a seven-month trial subscription for just $19.95. And I'll send you a FREE download of my commercially published scuba thriller set in Belize -- Tropical Ice. If at any time during this period you want your money back, you'll get it, a promise I've kept since 1975. Click Here.
Ben Davison, editor/publisher
BenDDavison@undercurrent.org
-----------------------------------------------------------------------------
Note: Undercurrent is a registered 501(c) (3) not-for-profit organization donating funds to help preserve coral reefs. Our travel writers never announce their purpose, are unknown to the destination, and receive no complimentary services or compensation from the dive operators or resort.
Highlights of Previous Online Updates
*
Here are past Online Update emails sent out . You can sign-up for free to receive these in the future here.
* Sometimes referred to as Upwellings