Divers Killed by Fish Bombs
Want to Buy a Luxury Liveaboard?
Going to Indonesia, the Maldives or French Polynesia?
Another Depth-Record Attempt Ends in Disaster
Cocaine Smuggler Becomes a New Artificial Reef
Now That's What We Call Deco!
Sore Feet on Repetitive Dives?
The First Kit to Buy?
Rob Stewart Honored with a Ship
Free-to-Read in this month Undercurrent
Also In Undercurrent this Month
Subscribe Now, and Get My New 36-page Seven Super Dive Resorts (and one meh)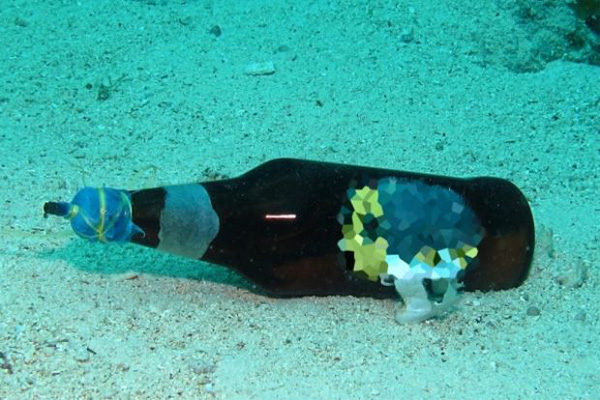 Divers Killed by Fish Bombs July 15, 2019
Two Chinese tourist divers and their local Bajau divemaster, Ab Zainal Abdu, were believed killed by fish bombs while diving in the waters off Kulapuan Island Resort, Semporna (near Sipadan), Malaysia on July 5. According to witnesses, there were several fishing boats operated by Moken sea gypsies near where the three divers were killed during the incident. More about this in the August issue.
Want to Buy a Luxury Liveaboard? July 15, 2019
David and Gaelle Mesnard now wish to bring an end to their dream existence in the Maldives for the benefit of their daughter Dune, who needs to get a formal education. They've resorted to emailing all their previous passengers with the proposition that their liveaboard Ocean Divine is for sale in the hope of finding a buyer. (david@ocean-stripe.com) There's more information about dive centers and liveaboards for sale in this month's Undercurrent.
Going to Indonesia, the Maldives or French Polynesia? July 15, 2019
Or anywhere else where water squeezes quickly between the islands? We thoroughly recommend you equip yourself with a reef-hook. Available from your local dive store or online, a reef hook enables you to add a little buoyancy to your BC to relax and 'fly' above the reef, while tethered hands-free in the current. Expect to pay around $25 for this simple yet essential item.
Another Depth-Record Attempt Ends in Disaster July 15, 2019
We don't know what drives people to do it but the quest to get his name in the record books proved fatal for Polish diver Sebastian Marczewski on July 7. He did not resurface after attempting to beat the world record of Egyptian diver Ahmed Gabr at 1090-feet deep on Scuba at Lake Garda, northern Italy. He was known as 'Iron Diver' on Facebook.
Cocaine Smuggler Becomes a New Artificial Reef July 15, 2019
On Saturday June 23, a 180-foot former Bolivian-flagged freighter, most recently called the Voici Bernadette, was towed out to sea and sunk off the coast of St. Lucie County, 12 nautical miles southeast of Fort Pierce. It was a project put together under the auspices of The Coastal Conservation Association of Florida and the reef will now be named after one of its founding members, Curtis Bostok. People in a flotilla of small vessels watched as the freighter, donated after it was twice-seized by U.S. Customs and Border Patrol for smuggling cocaine, sank beneath the waves.
Now That's What We Call Deco! July 15, 2019
In October 2018, Russian Navy divers successfully completed a dive to 1365 feet deep in the Sea of Japan. Yes, you read that right. They were from the Navy Research Institute and a separate expedition detachment of divers aboard the Igor Belousov Pacific Fleet rescue ship. Decompression? They left the diving chamber 18 days later. Let's hope they had some really good books with them.
Sore Feet on Repetitive Dives? July 15, 2019
Three or four dives a day can take it out on your feet, with all that finning. Try wearing an ordinary pair of nylon socks under your wetsuit boots. It saves the skin of your feet, softened by repeated immersion in seawater, from chafing.
The First Kit to Buy? July 15, 2019
When new divers ask what is the first equipment to buy we suggest a properly fitting mask. It becomes part of you and you should not need to give it a second-thought while underwater. The next item of kit? Your own computer. The only computer that tracks your nitrogen absorption while underwater is the one that is strapped to you. Then you might consider a properly fitting suit . . .
Rob Stewart Honored with a Ship July 15, 2019
Fins Attached, a marine conservation nonprofit, decided to name its new research expedition dive vessel Sharkwater in honor of the late Rob Stewart, environmental activist and the director of the Academy Award-winning documentary Sharkwater. The boat was christened on June 8 in Fort Lauderdale and then left on her maiden voyage to further Fins Attached research and help Stewart's team finish his film Sharkwater Extinction.
Free-to-Read in this month Undercurrent July 15, 2019
Isla Marisol, Glover's Reef: Is this the most perfect island resort on the best reef in Belize? It's a place where divers are few but the fish are plenty. Our writer avows it may have the best diving in the whole of the Caribbean area. Read here…

Killed by Sharks while Snorkeling with Pigs: Jordan Lindsey, a 21-year-old college student from Torrance, CA, was fatally attacked by sharks while snorkelling with pigs in the Bahamas, as her mother watched in horror. There are various theories as to why this tragedy happened. Read here …

Prevent an Incident Becoming a Crisis: If you've been diving for years, the underwater environment becomes familiar. We've forgotten the worries we had when we first learned. But the unexpected can happen in a hostile environment. Are you mentally equipped to tackle a problem before it becomes a crisis? Read here …
Also In Undercurrent this Month July 15, 2019
Undercurrent gets an environmental coverage grant . . . Divers find the last slave ship in the Alabama river . . . Raja Ampat, Bonaire, Maldives, readers tell it like it is . . . A Florida diver survives after eight hours adrift after being missed by his dive boat . . . Great white sharks aren't the ocean's top predator. Surprised? . . . Can you handle a crisis underwater? The unexpected happens . . . PADI buys America's two biggest dive magazines . . . Subscribers' letters to the editor . . . Cuba gets harder for Americans to visit . . . Disappointment as Bahamas Master cancels twice in two years . . . You may be experiencing "Oxygen Ear" . . . and much, much more.
Subscribe Now, and Get My New 36-page Seven Super Dive Resorts (and one meh) July 15, 2019
Subscribe now, and get my new 36-page Seven Super Dive Resorts (and one meh) mailed directly to you. My offer? Just $17.95 for a six-month trial subscription. Call it what you will -- a cut-rate subscription price with a free book, or maybe a two-for-one offer -- but it's a great offer and for $17.95, you can't go wrong. Because if for any reason you don't like or need your Undercurrent subscription, I'll return your $17.95 and you can keep our Seven Super Dive Resorts, with my thanks for giving us a go.

On top of that you gain immediate access to 15 years of back issues and more than 10,000 honest resort and liveaboard reviews submitted by our experienced readers. And, I'll send you full reviews by our anonymous writers of a great Fiji escape, a Cozumel dive operator catering for serious divers, a two-resort budget combo of Indonesia, undiscovered diving off Grenada, and much, much more. If during your trial subscription you are dissatisfied for any reason, I'll return your $17.95, no questions asked. To subscribe at this special rate of $17.95 for six months, simply click here.
Ben Davison, editor/publisher
Contact Ben
-----------------------------------------------------------------------------
Note: Undercurrent is a registered 501(c) (3) not-for-profit organization donating funds to help preserve coral reefs. Our travel writers never announce their purpose, are unknown to the destination, and receive no complimentary services or compensation from the dive operators or resort.
I want to get the full story! Tell me how I can become an Undercurrent Online Member and get online access to the complete articles from current and back issues of Undercurrent as well as thousands of first hand reports on dive operations worldwide

Highlights of Previous Online Updates
*
Here are past Online Update emails sent out . You can sign-up for free to receive these in the future here.
* Sometimes referred to as Upwellings