New Computers
A Dive Boat Sinks in the Similan Islands
Jaws Turns Up in Florida
Did You Hear a Fish Bomb?
Divers Keep Getting Older and Older
New Shark on the Block
The World's Deepest Swimming Pools
Good News for Blue Heron Bridge Fans
Chilled and Exhausted
Be a Good Dive Buddy -- Buy Trip Insurance
Key West Bans Popular Sunscreens
Is Your Old Computer Still Safe?
A Pretty Weird Poop Story
This Month in Undercurrent
Subscribe Now and Get the Lowdown on Diving That Other Media Omits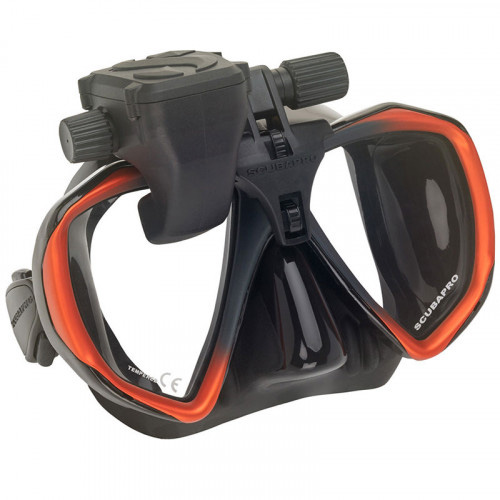 New Computers March 16, 2019
Suunto's rechargeable D5 gas-integrated computer watch with color OLED display was launched this month and is priced between $849 and $899. The just-released Scubapro Galileo HUD (see photo above)) is gas-integrated, features a transmitter and heart-rate monitor, fits on most Scubapro two-lens masks, and puts all the information in front of your eyes. It retails for around $1,700.
A Dive Boat Sinks in the Similan Islands March 16, 2019
Seven Thais, two Australians, one Italian diver and a French one were rescued in Thailand's Similan Islands, a popular diving destination near Phuket, when their liveaboard, Panthip 2, sank on February 24. Fortunately, the incident happened near a small beach, so the divers quickly made it back to land.
Jaws Turns Up in Florida March 16, 2019
Sharks are the reason why many people won't go in the water, but Amber and Tommy Allore, a couple of free-divers from Stuart, FL, were thrilled to get some photographs of a great white, a rare visitor to that stretch, while spearfishing with friends off Jupiter last month. They estimated the shark to be around 12 feet long. Meanwhile, Florida's legislature is preparing a statewide ban on the practice of fishermen dumping fish guts in the ocean to lure sharks closer to beaches and, too often, to swimmers and ocean dippers.
Did You Hear a Fish Bomb? March 16, 2019
Reef Check Malaysia has decided to put a spotlight on marine debris in this International Year of the Reef, because they are seeing alarming amounts of plastic and other trash on Malaysian beaches, and they'll kick off their campaign with beach cleanups on Tioman, Pethentian, Mabul and other islands. However, fish bombing is still a problem in the area, the organization state. If you are diving in Malaysian waters and hear dynamite fishing in action, you can report it by emailing reportfishbomb@reefcheck.org.my with date, time and location.
Divers Keep Getting Older and Older March 16, 2019
Undercurrent recently wrote about the continuing diving career of 95-year-old Ray Woolley, a British-born resident of Cyprus, where he has plenty of opportunity to get into the water. But now his record as the world's oldest diver is being challenged by 98-year-old Bill Lambert from Rockford, IL. who got his scuba certification last October. Lambert is waiting to see if the Guinness Book of Records will verify his claim.
New Shark on the Block March 16, 2019
Nobody really knows how many different species of shark there are, but a new one has been added to the list. Scientists at the Florida Institute of Technology have confirmed the Atlantic six-gill shark is indeed a new species. It resides primarily in the depths of the Atlantic Ocean, but is also found in parts of the Indian and Pacific oceans too.
The World's Deepest Swimming Pools March 16, 2019
The 148-foot-deep DeepSpot, is set to open this fall in the Polish town of Msxczonow, 25 miles from Warsaw. Visitors can freedive and scuba in water temperatures of 90-93°F, and cave diving beginners can train in underwater caves. But DeepSpot won't hold the world record for too long. Blue Abyss, currently under construction in Colchester, England, will be 164 feet deep. Those two are following on the success of diver-friendly pools Y-40 Deep Joy in the northern Italian town of Montegrotto Terme (138 feet) and Nemo 33 with divers in Brussels, Belgium (113 feet).
Good News for Blue Heron Bridge Fans March 16, 2019
Following protests over excessive fish collecting by aquarium collectors at this bridge near Palm Beach Shores, FL (see our article in the January issue of Undercurrent), the Florida Fish and Wildlife Conservation Commission ratified the banning of harvesting and possession of tropical aquarium species from the iconic macro-lovers dive site, effective April 1. It's a triumph for members of the Blue Heron Bridge Dive Club, which brought the aquarium fish-collecting controversy to light, and a good example of how social media can be used to protect the environment.
Chilled and Exhausted March 16, 2019
William Trubridge, the Kiwi who currently holds the record for the deepest single-breath dive, has achieved another first: swimming underwater, like a dolphin, across New Zealand's treacherous Cook Strait. On March 16, Trubridge swam for 9 hours and 15 minutes, wearing a monofin, across the 20-mile-wide channel that separates New Zealand's two main islands.
Be a Good Dive Buddy -- Buy Trip Insurance March 16, 2019
Here's a story that shows why you shouldn't skimp on the travel insurance. When Andrew Littler, a British truck driver from Leicestershire, England, went with his wife on vacation to the Canary Islands last month, he failed to take out travel insurance. Sadly, Littler suffered cardiac arrest while learning to scuba, so his friends had to cough up the $5,000 needed to fly his body home.
Key West Bans Popular Sunscreens March 16, 2019
Following in Hawaii's footsteps, City Council members in this Florida Keys town voted 6-1 last month to ban sales of sunscreens with oxybenzone and octinoxate, two chemicals shown to damage coral. The U.S. National Park Service issued a statement after the Key West vote, recommending people buy skincare products containing titanium oxide or zinc oxide, which are considered natural alternatives to those two banned chemicals.
Is Your Old Computer Still Safe? March 16, 2019
Computers don't change, but we do. As we age, our bodies change, so the dive computer you bought at age 55 may not have the more conservative algorithm that's suitable for you at age 70. So how do you know if it's time to retire that old computer? And how do you decide which is the right one to purchase next? Can the one you've been using be set for nitrox? Does it allow you to set degrees of caution, and tell you how long your air will last? Can you still read and understand the display easily? You can read our advice about old vs. new dive computers for free in www.undercurrent.org
A Pretty Weird Poop Story March 16, 2019
Scientists often get excited about the animal excrement they find. But one research team also got a surprise when they found a USB memory stick inside the frozen poop of a leopard seal on New Zealand's Oreti Beach. It was in good condition, so they decided to search for the owner with the help of social media and news outlets. That's how Amanda Nally, a self-proclaimed seal enthusiast, was shocked to see some of her footage of playful sea lion pups in nearby Porpoise Bay appear on the nightly news. The story gets even more bizarre – turns out the memory stick was found enmeshed in feathers and bones, indicating it was inside a seabird the leopard seal had preyed upon. Nally says she must have dropped the memory stick while beach walking.
This Month in Undercurrent March 16, 2019
Exciting moments on Hawaii's Kona Aggressor . . . Dive sites rich in history in St. Eustatius . . . The fatal effects of the rapture of the deep . . . Which fins do readers fancy? . . . Bad stories about the bends . . . Should you let a shrimp clean your teeth? . . . Strobes don't hurt the marine life . . . Do these shark repellents really work? . . . A tent might be your next dive safety device . . . Can a fish tell if a diver is armed? . . . Why shark fin is still on the menu in 12 states despite being banned there . . . Does menopause increase the risk of DCS? . . . and much, much more.
Subscribe Now and Get the Lowdown on Diving That Other Media Omits March 16, 2019
For a very short time, you can receive eight months of Undercurrent for only $29, as well as gain immediate access to 15 years of back issues and more than 10,000 honest resort and liveaboard reviews submitted by our experienced readers. What's more, you can download for free the exciting scuba thriller, Tropical Ice, set on the reefs of Belize. If during your trial subscription you are dissatisfied for any reason, I'll return your $29, no questions asked. To subscribe at this special rate of $29 for eight months, simply click here.
Ben Davison, editor/publisher
Contact Ben
-----------------------------------------------------------------------------
Note: Undercurrent is a registered 501(c) (3) not-for-profit organization donating funds to help preserve coral reefs. Our travel writers never announce their purpose, are unknown to the destination, and receive no complimentary services or compensation from the dive operators or resort.
I want to get the full story! Tell me how I can become an Undercurrent Online Member and get online access to the complete articles from current and back issues of Undercurrent as well as thousands of first hand reports on dive operations worldwide

Highlights of Previous Online Updates
*
Here are past Online Update emails sent out . You can sign-up for free to receive these in the future here.
* Sometimes referred to as Upwellings