Was the Joke On You?
Is This Why Whales Beach Themselves?
Cocos Island Liveaboard Discount
When a Manatee Hugs You
Ocean Reef's Full-Face Mask Recall
Remaining Air Time Equals Remaining Range
Why the Skulls and Boobs?
Coming Soon in Undercurrent
Red Sea Brothers Are Open Once More
This Month in Undercurrent
Subscribe Now and Get my new 36-Page Seven Super Dive Resorts (and one meh)

Was the Joke On You? April 20, 2019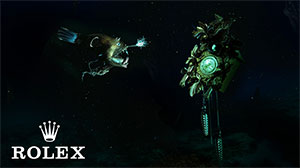 Most readers spotted the April Fool's spoof I sent out on April 1, although a few complained that I didn't include booking details for Precious Island. Another good dive-related spoof came from The Onion, with an article announcing the launch of a diver's cuckoo clock designed to go to 10,000 feet deep. "When you buy a Rolex Perpetual Cuckoo Sub-Mariner, you know you're getting the most durable, highest quality clock available." Don't try to buy the clock nor ask for booking details for Precious Island.
Is This Why Whales Beach Themselves? April 20, 2019
Divers know that fast ascents can kill. Whales don't. A study in the Proceedings of the Royal Society highlights a link between naval sonar and the massed strandings of whales. Researchers in Las Palmas, Spain believe the animals could be victims of decompression sickness caused by fear -- they found nitrogen bubbles in the veins of stranded dead cetaceans, and blood clots in several of their organs. When the whales swim fast to move away from sonar, their heart rate accelerates, causing DCS.
Cocos Island Liveaboard Discount April 20, 2019
Undercurrent subscribers can take advantage of a special $1,000 discount on a 10-day liveaboard trip to Cocos Island June 8-18, organized by the nonprofit Turtle Island Restoration Network. In addition to viewing and photographing the incredible marine biodiversity of the Eastern Tropical Pacific, you'll have a one-of-a-kind opportunity to help TIRN staffers with their ongoing sea turtle and shark conservation research. Interested? Go to https://seaturtles.org/our-work/our-programs/cocos-island/ and quote the code UNDERCURRENT. Much of your cost may be tax-deductible.
When a Manatee Hugs You April 20, 2019
While visiting Crystal River to snorkel with its famed manatees in late March, Florida resident Mandy Egner was following the required guidelines, of keeping her hands up while finning, so she was pretty surprised when a large manatee approached, hugged her and then flipped her out of the water. "It was definitely an unforgettable experience," Egner recalled. There are two sides to every story, but the manatee was not available for comment.
Ocean Reef's Full-Face Mask Recall April 20, 2019
Not to be confused with the Aria snorkeling mask by the same Italian manufacturer, the U.S. Consumer Product Safety Commission are recalling about 1,000 Ocean Reef Neptune Space integrated diving masks, made between March and November 2018. They represent a potential hazard due to a possible restricted air-flow. Check if your mask is affected by comparing its serial number with those listed at www.oceanreefgroup.com. If yours is included, return the mask to where you bought it for a free replacement or refund.
Remaining Air Time Equals Remaining Range April 20, 2019
Remember when we used to watch the fuel gauge of our cars and wonder how far the last bit of fuel would get us? Unfortunately, low-on-air divers don't have the option to walk with a can to the nearest gas station. Looking at an standard pressure gauge with its needle in the red section can be unsettling, to say the least. That's why more divers are opting for gas integration, often using a hoseless transmitter fitted to the regulator's first-stage. The "remaining air-time" display is similar to the range indicator in a modern car, and accounts for your breathing rate and depth.
Why the Skulls and Boobs? April 20, 2019
Diver Stuart Vernon went on social media to pose this question: "Why do so many scuba T-shirt designs make it look like scuba is for ex-Navy SEALs, or some sort of badass, when most of us are nice people? When conservation is now in the public's mind, do you think this gives the wrong impression? Would you really wear a T-shirt with women's breasts on it, or something more fitting for one of the Hell's Angels?" Tell us about the worst scuba T-shirt designs you've seen – send an email to BenDDavison@undercurent.org
Coming Soon in Undercurrent April 20, 2019
Truk Lagoon by liveaboard: Is it better than diving it from shore? . . . have you had to wait after a diving injury? . . . Isla Marisol and Glover's Reef, Belize . . . CoCo View, Roatan, Honduras. . . . are you up to handling a crisis underwater? . . . one man's ocean cleanup . . . advances in integrated-weight systems for BCs . . . a scuba island for sale . . . and much, much more.
Red Sea Brothers Are Open Once More April 20, 2019
After they were closed to divers as a result of multiple shark attacks, the Brother Islands are open to divers again but subject to new government rules: No boat can moor overnight; the daily maximum number of boats is limited to 12 at Big Brother and six at Little Brothers, and official permission must be received beforehand. And now it is forbidden to dump any organic waste within five miles of the area -- crews must wait to flush the sewage tanks when the boats are underway.
This Month in Undercurrent April 20, 2019
Shore-based wreck diving of the Japanese WWII fleet in Truk with Blue Lagoon Resort. . . easy Caribbean diving in Roatan with Splash Inn . . . why you should consider technical diving. . . why this man blames his wife's snorkeling death on her mask . . . which wetsuit should you get? . . . what to do if you have a catastrophic regulator failure . . . some serious issues with BCs to report . . . a new threat to Florida's coastal coral . . . why you had better confirm your flight itinerary more than once . . . the "canaries of the reef" are in trouble . . . how side-mount diving can take a load off for older divers . . . a great new book on Costa Rica diving . . . and much more.
Subscribe Now and Get my new 36-Page Seven Super Dive Resorts (and one meh) April 20, 2019
mailed directly to you. For a very short time, you can receive eight months of Undercurrent for only $29, as well as gain immediate access to 15 years of back issues and more than 10,000 honest resort and liveaboard reviews submitted by our experienced readers. And, I'll send you full reviews out anonymous writers of a great Fiji escape, a Cozumel dive operator catering to serious divers, a two-resort budget combo in Indonesia, undiscovered diving right off Grenada, and much more. If during your trial subscription you are dissatisfied for any reason, I'll return your $29, no questions asked. To subscribe at this special rate of $29 for eight months, simply click here.
Ben Davison, editor/publisher
Contact Ben
-----------------------------------------------------------------------------
Note: Undercurrent is a registered 501(c) (3) not-for-profit organization donating funds to help preserve coral reefs. Our travel writers never announce their purpose, are unknown to the destination, and receive no complimentary services or compensation from the dive operators or resort.
I want to get the full story! Tell me how I can become an Undercurrent Online Member and get online access to the complete articles from current and back issues of Undercurrent as well as thousands of first hand reports on dive operations worldwide

Highlights of Previous Online Updates
*
Here are past Online Update emails sent out . You can sign-up for free to receive these in the future here.
* Sometimes referred to as Upwellings