Potential Danger with Aqua Lung Weight Pockets
DiveAssure Changes Its Insurance Features
What You're Missing This Month
The Undercurrent "Trump Card"
More High-Pressure Hose Recalls
Setting the Hook:A Diver's Return to the Andrea Doria
Maui's Olowalu Reef under Threat
Spearfishing Ban Proposed in the Big Island
Need a New Wetsuit?
JetBlue Comes to the Cayman Islands
Dive Site to Watch: American Samoa
Narrated Dive Tours in Grand Cayman
Think Twice Before Scuba Diving with an American Flag
The Hottest Product at DEMA
Coming up in Undercurrent in 2013

Potential Danger with Aqua Lung Weight Pockets: November 30, 2012
Aqua Lung is conducting a voluntary recall of SureLockII weight pocket handles, which it has put into most of its BCDs since 2009. It's concerned that the rubber handle can pull off of the plastic weight pocket, leaving the weight pocket still attached to the BCD. The revised handle now has a thickened band of rubber at the base. Anyone using SureLockII weight pockets, no matter what year you bought them, should bring them to the nearest Aqua Lung retailer, which can quickly replace your handles while you wait. The replacement is made under warranty and free of charge; however, the handles will be in short supply for most of November. For more information, call 888-818-3483 or email support@aqualung.com
DiveAssure Changes Its Insurance Features: November 30, 2012
Thanks to Doc Vikingo, we got word of changes DiveAssure recently made. There are now three levels of annual coverage: Gold, Platinum and Premier. There's short-term medical coverage for periods less than a full year. There are three levels of travel insurance, with or without an annual diving accident plan. A Duke Dive Medicine Package is included in all plans and offers: emergency and non-emergency hotlines; a Duke physician consultation for dive-related inquiries; physician-to-physician consultation, with review of member-provided medical information; evacuation, supervision and medical oversight of diving accident treatment. Looks very similar to what Divers Alert Network offers in coverage. Get details at www.diveassure.com/new/usa/index.html
What You're Missing This Month: November 30, 2012
Florida dive reviews: superb critters in West Palm Beach and must-dive wrecks in Key Largo . . . tips for doing shore dives in intracoastal tidal waters . . . good diving in Raja Ampat, Bikini Atoll, Hawaii, and one diver's Hurricane Sandy tale . . . did this Seattle diver really deserve death threats? . . . what big life insurance companies are offering to sport divers . . . what's new in wetsuits and what to consider before buying one . . a new book about a diver's return to the Andrea Doria while facing a debilitating disease . . . is the Costa Rican government really doing what it should to combat shark finning? . . . and much more.
The Undercurrent "Trump Card": November 30, 2012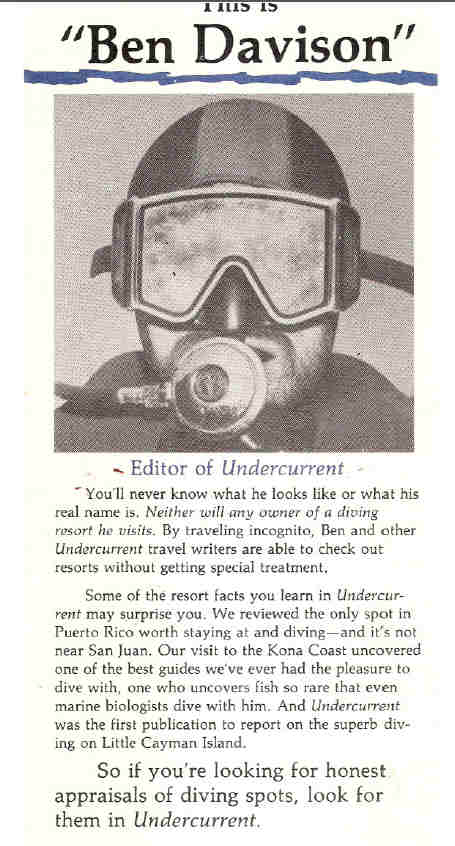 Old Undercurrent direct-mail insert
One of the free articles from this month's issue is Bret Gilliam's story, "Who Is That Masked Man," about how he finally met me, real name and everything. Reader Tom Lopatin (Lake Hopatcong, NJ) also produced another blast from the past - an old Undercurrent direct-mail insert featuring a photo of me in full dive gear and with a (now long gone) beard. Tom explains how he used that photo as a "trump card" on his dive trips. "You see, 'way back when,' I had an identical beard (I've been clean shaven for many years, after the gray moved in). At times, when I was at one of those fabulous destinations I would have never discovered if not for Undercurrent, and I was getting push-back about visiting a particular dive site that you highlighted, I would pull the 'trump card' direct-mail ad photo and say, 'I'm not suggesting anything, but does this guy look like anybody you've seen diving here lately?' Then I'd laugh and say I was just kidding around with them. Not sure if it was a 'coincidence,' but I always got to dive those sites! Thanks for your publication's guidance over the years. I've had some remarkable diving experiences as a result." Even if you don't have a beard, you can use Undercurrent as your own trump card, getting honest appraisals of dive spots, writing your own reviews to let other divers share (or avoid) your experiences and keeping up to date on need-to-know news about everything related to diving. Subscribe to Undercurrent, starting with our 2013 Chapbook and our January 2013 issue, at /UCnow/join.shtml
More High-Pressure Hose Recalls: November 30, 2012
We've written a few articles in the past year about high-pressure hose recalls at Miflex (May) and Innovate Scuba Concept's Phantom hoses (August). Now this month, three companies, including Innovative Scuba Concepts again, are recalling high pressure hoses sold between August 2011 and August 2012. Innovative Scuba Concept is recalling 1,900 of its hoses, Trident Diving Equipment is recalling 480 and A-Plus Marine is recalling 210 of them. The importers received nine reports of burst hoses; no injuries were reported, but this is troublesome stuff for divers. Read the U.S. Consumer Product Safety Commission's press release for the recall details; and subscribe to Undercurrent to read our detailed stories about high-pressure hose concerns, as well as this month's behind-the scenes story "These High-Pressure Hose Recalls Should Have Divers Concerned" about, well, why you should be concerned.
Setting the Hook:A Diver's Return to the Andrea Doria: November 30, 2012
Here's an enthralling personal account from Peter Hunt, starting with his explorations of the 240 foot-deep wreck in 1983, and his compelling urge to return to the ship many years later. It brings a unique perspective to a well-covered subject. Hunt reveals some of the mysteries behind the collision that sunk the ship, and how the early divers tried to unravel them. It's his personal relationship to the ghost ship that makes this book unique. A gripping subplot is touched on in the first chapter: while preparing for his return to the Andrea Doria, Hunt was dealing with the onset of Parkinson's disease, adding both poignancy and urgency to his quest to recapture his daring youth. You'll need to read the book to see whether he achieves his goal. Order the book through Undercurrent , and you'll get Amazon's best price -- and our profits will go to save coral reefs.
Maui's Olowalu Reef under Threat: November 30, 2012
Maui natives and visitors showed up at a county council meeting to oppose the development of Olowalu Town at one of the island's few healthy reefs. Olowalu, four miles south of Lahaina, is home to more than 350 manta rays, has one of the few black-tip shark nurseries in the state, and is the largest of only two remaining Maui reefs with more than 50 percent live coral cover. Developers want to build 1,500 new homes for 4,000 new residents on the Olowalu watershed directly uphill from the reef. In response, Olowalu Town LLC project developer Bill Frampton said his team is taking all steps to protect the reef. The county council now plans to hold public hearings on the development. If you want to petition against Olowalu Town, you can sign this ForceChange petition
Spearfishing Ban Proposed in the Big Island: November 30, 2012
The proposal would establish a 1,500-foot section of Kaohe Bay in Hawaii's South Kona as a fish replenishment area, meaning there would be no scuba spearfishing, and no taking of nine shark and ray species and two invertebrates. An aquarium collectors' permit also would be required. The goal is to increase protection for 40 rare fish species - particularly popular with aquarium collectors -- and it would make West Hawaii the only area in the state to ban scuba spearfishing. Residents can provide input during a public hearing on December 5. Anyone else can submit written testimony by December 19 to the Division of Aquatic Resources .
Need a New Wetsuit?: November 30, 2012
If your old wetsuit keeps you more wet than warm, then you should be in the market for a new one. New technology and new materials have manufacturers touting benefits like more stretch, less bulk, more warmth and less hassle getting in and out of their wetsuits. Read our article about this - free at www.undercurrent.org - to see what factors you should consider before buying.
JetBlue Comes to the Cayman Islands: November 30, 2012
Starting this month. Airbus 320s from New York and Boston now land at Grand Cayman. New York round-trip flights operate on Monday, Thursday and Saturday, and the Boston round-trip flights are on Saturdays.
Dive Site to Watch: American Samoa: November 30, 2012
Not many divers visit this island chain (it's not cheap or easy to get there), but two legislative actions taken this month make it worth keeping an eye on for future dive trips. First, it banned shark fishing in order to stop the population's dramatic decline - it's illegal to catch or possess sharks within three miles off shore, covering most of the territory's coral reefs. Second, the National Oceanic and Atmospheric Administration finalized a huge expansion of the Fagatele Bay National Marine Sanctuary, from 0.25 square miles to 13,523 square miles. That takes the sanctuary from one lone protected coral reef to a marine area larger than the state of Maryland. NOAA also renamed the protected region, now calling it the National Marine Sanctuary of American Samoa.
Narrated Dive Tours in Grand Cayman: November 30, 2012
Per Undercurrent contributor Doc Vikingo, we found out that Brad Nelson, from the old Bob Soto's Diving outfit, has just opened Cayman University Divers . It aims to differentiate itself by "using underwater communication technology for teaching scuba classes and offering optional narrated scuba tours to divers." Strap on a gadget called Dive Link Explorer to your hose, slip the speaker under your mask strap, and you can hear your dive guide talk about the marine life you're seeing. That could either be a great way to learn more about critters on a dive, or an annoying way to spend 45-plus minutes.
Think Twice Before Scuba Diving with an American Flag: November 30, 2012
Congressman Allen West, a Tea Party candidate from Florida, took heat for this stunt last year, and it's one gaffe that led to his loss to his 29-year-old Democratic challenger. Regardless, he is an avid diver and celebrated Learn to Dive Month with disabled veterans and members of Diveheart.
The Hottest Product at DEMA: November 30, 2012
I went to the Diving Equipment and Marketing Association's annual convention in Las Vegas earlier this month, and all the buzz has been about a device by Casio that lets divers easily talk to each other underwater. Logosease is a four-ounce transmitter attached to the mask's strap on the side of a diver's head. Using bone conduction (vibrations carried through the wearer's skull), a microphone is able to pick up what the diver is saying. Conversation can be garbled, what with having a regulator in your mouth, but the transceiver's "digital speech conversion technology" is supposed to make difficult consonant sounds - like n, b and p - easy to understand. Speech travels by ultrasounds waves and is played back as speech in the transmitter's speaker. Logosease supposedly lets divers communicate within visual range (although it depends on what the water conditions are, obviously) and is watertight to 180 feet. The prototype was on display at the DEMA convention, but no word yet on availability or price.
Coming up in Undercurrent in 2013: November 30, 2012
Diving in Baja California, Sipadan and Malaysia . . . Truk by land . . . A hideaway in Vancouver, B.C. . . . can dive shops turn you away if you don't buy gear from them? . . . our readers' advice about diving again after a major medical procedure . . . can scuba diving really burn 400 calories per hour? . . the link between women, age and DCS . . . and much more.
Ben Davison, editor/publisher
Contact Ben
-----------------------------------------------------------------------------
Note: Undercurrent is a registered 501(c) (3) not-for-profit organization donating funds to help preserve coral reefs. Our travel writers never announce their purpose, are unknown to the destination, and receive no complimentary services or compensation from the dive operators or resort.
I want to get the full story! Tell me how I can become an Undercurrent Online Member and get online access to the complete articles from current and back issues of Undercurrent as well as thousands of first hand reports on dive operations worldwide

Highlights of Previous Online Updates
*
Here are past Online Update emails sent out . You can sign-up for free to receive these in the future here.
* Sometimes referred to as Upwellings