Support Turtles: Buy a Raffle Ticket for a Cocos Dive Trip
Problems with Your High-Pressure Hoses?
"Thanks for Bringing Me Back to Diving."
Scuba Diving for Breast Cancer Survivors
Fish Out of Water
Read Our Collection of Dive Books
Does RJ Diving Ventures Deserve This Treatment?
Good News for Amphibico Housing Owners
Help Save Cabo Pulmo
What You're Missing in This Month's Issue

Support Turtles: Buy a Raffle Ticket for a Cocos Dive Trip: October 18, 2011
In last month's e-mail newsletter, we talked about the Sea Turtle Restoration Project's two research expeditions next April and September to Cocos Island on the Argo, Undersea Hunter's newest liveaboard. The cost for the April trip is $5,940, but you could win a berth by buying a raffle ticket, priced at $100 each (buy 10 and get another one for free). Whether you win the raffle or pay full freight, you'll have the opportunity to help tag sea turtles and sharks with transmitters to track their migration patterns. Drawing date is February 1. Information about the raffle , and information about the trip itself
Problems with Your High-Pressure Hoses?: October 18, 2011
During his stay at Sipadan-Mabul Resort last month, reader Mike Cavanaugh (Bellaire, TX) reports that his high-pressure hoses busted twice in less than 24 hours. "While checking subsequent tanks with my regulator after dinner, a Miflex HP hose broke at the gauge console. The resort manager showed impressive service by arranging a golf cart to carry us to the land-based operation, and the dive shop promptly changed the hose out. But then my other HP Miflex hose bust again at the console the following day on the boat. These Miflex hoses are only two years old, and I am quite anal about taking care of gear so the hoses were not abused." Have you had similar problems as Cavanaugh did with his hoses? If so, how did you get them fixed, and were the dealers and/or manufacturers helpful or not so much? E-mail me your stories at PublisherBenD@undercurrent.org
"Thanks for Bringing Me Back to Diving.": October 18, 2011
Randall Rothenberg was a former head honcho at Time Warner, which publishes major magazines like Time and Sports Illustrated, so he knows a thing or two about good writing and editing. Which makes it doubly special to us when someone like Rothenberg, now CEO of the Interactive Advertising Bureau, takes the time to write us this letter: "I subscribed to Undercurrent for almost two decades and absorbed every issue. But then diving dwindled for me, and I let my subscription lapse. This summer, I started feeling the loss, and the hankering to go diving built and built. The first thing I did was search online to see whether Undercurrent had gone digital. I was pleased beyond measure that you not only had gone digital, but you'd done it in a way that was entirely consistent with your classic design, voice, and values. Thanks to you, I broke my 11-year dive celibacy at Bruce Bowker's Carib Inn in Bonaire, which was exactly as you described. And your piece on Saba - the island from which I did my first openwater dive 27 years ago - gave me the impetus to return there for the first time in almost 20 years. It, too, was exactly as described (and wonderfully so). I owe you great thanks for bringing me back to diving - and for staying true." Join Rothenberg by signing up for a subscription
Scuba Diving for Breast Cancer Survivors: October 18, 2011
We always knew diving was good for the spirit and soul. Now medical researchers believe scuba is good for the health as well, and are testing that thesis out on breast cancer survivors. PADI is promoting a new study commissioned by Duke University Medical Center to understand the health benefits of diving among breast cancer survivors. Dubbed "Project Pink Tank," the initial research starts this month with a survey to assess activity levels and health of divers who have been diagnosed with breast cancer. The results are expected to be published by Duke researchers in May 2012. To access the survey, which will remain live until January 31, 2012, go here
Fish Out of Water: October 18, 2011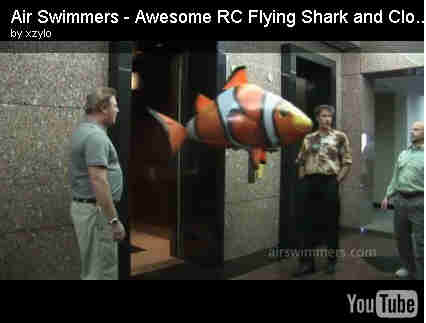 The clownfish, made popular in the Pixar film Finding Nemo, is under threat by aquarium-trade poachers, but you can still bring one home – a 57-inch-long one. Same with a shark, three feet in height. And they swim through the air. Obviously, we're not talking about real fish. But Air Swimmers, remote-controlled fish, will wow the kids even more than the real ones (see them in action at http://www.youtube.com/watch?v=vIJINiK9azc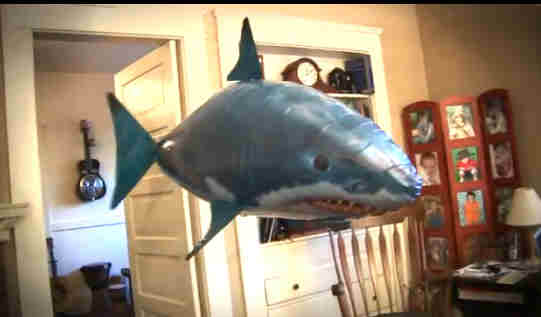 ) Air Swimmers are re-fillable and the durable nylon material promises to stay inflated for weeks. Four AAA batteries are required (one in the body, three in the remote controller) and make the fish "swim" for hours around the house (not for outdoor use). The shark and clownfish are about $40 each now including shipping at Amazon. and remember, our profits go to help preserve coral reefs.
Read Our Collection of Dive Books: October 18, 2011
We offer the best dive books out there that are must-haves for serious diver' libraries. The latest addition to our roundup - Four Fish: The Last Wild Food, by Paul Greenberg, about the demise of our food fish, the impact of fish farming, and what can be done to ensure a sustainable supply. Also order There's a Cockroach in My Regulator, bizarre, brilliant and true tales taken from 30 years of Undercurrent publications. An added bonus: order books on our website and a portion of the profits are donated to preserve coral reefs.
Does RJ Diving Ventures Deserve This Treatment?: October 18, 2011
The first paragraph of our "Turks & Caicos, Grand Cayman, Costa Rica" story in this month's issue focuses on the two divers who were left behind by their dive boat near Key Biscayne, Florida on October 2 and were rescued two hours later by a private yacht. While the divers made it back to land unharmed, the dive operator, RJ Diving Ventures, is under attack. The Miami Herald reports that hundreds of people have called and e-mailed RJ, leaving such vulgar, hate-filled messages - they're calling the crew idiots and morons, and hope that the stranded divers will sue and drive them out of business -- that the company has taken down its website and Facebook page, and stopped answering the phone. Owner Robert J. Arnove says his boat captain feels horrible and that, "I am shocked at the animosity and hatred displayed by these people." Yes, his company made a mistake due to human error, but does it deserve such hostile treatment? Do divers need to behave as badly as Congress?
Good News for Amphibico Housing Owners: October 18, 2011
In our July issue, we wrote how the British underwater camera gear manufacturer Amphibico shut down operations without notice, leaving customers and warranty owners in the lurch. But housing owners will be happy to know that the Canadian housing manufacturer Aquatica has acquired Amphibico. Aquatica co-owner Blake Stoughton said in a press release, ""While we are combining the operations of the two companies, we will maintain the Amphibico brand and the commitment to quality and excellence it has inspired for many years."
Help Save Cabo Pulmo: October 18, 2011
We've written in past e-mails and newsletter about the wonders of Cabo Pulmo National Park in Baja California Sur, as well as how it's under threat by a massive tourist development that the Mexican government has approved. The World Wildlife Fund has created a petition to urge Mexico's President Felipe Calderon to cancel the permits, which would threaten the world's healthiest marine reserve. Us divers would lose a wonderful dive site so lend your support by signing the petition at here
What You're Missing in This Month's Issue: October 18, 2011
Spoilsport, Australia: a good pick for diving the Great Barrier Reef, with some Coral Sea thrown in . . . how our travel write escaped a $450 excess baggage fee . . .good advice for dive spots and shops in Grand Cayman, the Turks & Caicos and Costa Rica . . . the mysterious case of the stolen, exploding tank . . . the firsthand tale of a diver's painful, disabling sting from a lionfish . . . the insurance claim DAN should have approved from the start . . . why it's wise to do some exercise before a dive . . . should you buy shark-repelling magnets? . . . and much more
Ben Davison, editor/publisher
Contact Ben
-----------------------------------------------------------------------------
Note: Undercurrent is a registered 501(c) (3) not-for-profit organization donating funds to help preserve coral reefs. Our travel writers never announce their purpose, are unknown to the destination, and receive no complimentary services or compensation from the dive operators or resort.
I want to get the full story! Tell me how I can become an Undercurrent Online Member and get online access to the complete articles from current and back issues of Undercurrent as well as thousands of first hand reports on dive operations worldwide

Highlights of Previous Online Updates
*
Here are past Online Update emails sent out . You can sign-up for free to receive these in the future here.
* Sometimes referred to as Upwellings