Bruce Bowkerís Carib Inn, Bonaire
hard to book, but heaven for hardcore divers
from the October, 2007 issue of Undercurrent
Dear Reader:
Bonaireís semi-arid climate makes for great visibility, and its reefs are shallow and full of life. The Reef Environmental Educational Foundation (REEF) lists eight of North Americaís top 10 sites for species richness in Bonaire. Another bonus: Bonaire lies far south of the Caribbeanís hurricane belt, so it was spared any effects of recent hurricanes Dean and Felix. The last hurricane it felt was Lenny in 1999. Waves hitting the western side for 12 hours destroyed the charming restaurant and dive shop that stood over the water at Sand Dollar Condominium Resort, my usual haunt. The government became restrictive about structures built over water so Sand Dollar wasnít permitted to rebuild on the old site. My new choice would be the Carib Inn.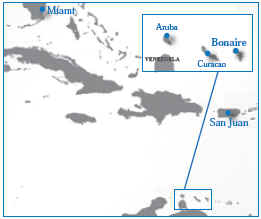 With years of diving under my belt, I felt worthy of becoming a guest. Thatís because this small, nofrills resort caters strictly to hardcore divers. Bowker, Bonaireís first full-time dive instructor back in 1973, worked for Captain Don, then founded the Carib Inn in 1980 and is legendary among serious divers. His staff gives excellent service but also leaves divers to do as they please. Thatís why the Carib Inn, just south of downtown Kralendijk, has an average occupancy rate of 90 percent and the highest return guest percentage in Bonaire. Itís so hard to get a reservation that even return guests must book a year ahead of time.
As a first-time visitor last June, I got a brief diving orientation after checking in. Unescorted by a divemaster, I did the official checkout dive on the Innís house reef. The white, sandy bottom spread out gently, scattered with nautical debris, including a mix of rusted anchors from different decades. Reef squid hovered in groups, while a small octopus was out and about. I also saw three spotted morays, a goldentail and a sharptail moray. When I placed my hand in front of Pederson cleaner shrimp, they soon hopped on to do a manicure. During my night dives, a large green moray, 24 inches around at the neck, basked in shallow water, and on afternoon dives an eagle ray put on lengthy shows.
In my mind, ďresortĒ conjures up images of pools, bars, restaurants and long lists of guest activities. Not the Carib Inn. It has a freshwater pool, but no restaurant or bar. However, the Divi Flamingo Beach Resort and Casino have such amenities. There are only 10 units, each containing a refrigerator and microwave, and eight have kitchens. Rooms are basic but air-conditioned, clean and comfortable. I stayed in Unit 3, near the pool, with tile floors and a full kitchen. Two twin beds could be pushed together, and the day bed quickly became an equipment bench. The bathroom was small and needed more ventilation but had a nice-sized shower. I gladly paid the additional $10 daily charge to run the air-conditioning when not in the room because it couldnít cool the room quickly after being switched off. Free wi-fi Internet access around the pool also worked well in my room. During my week, the guests were American hardcore divers, with the exception of a young Dutch couple. I met a couple enjoying their 27th visit to the resort.
All divers are required to pay a $25 annual fee to dive in the Bonaire National Marine Park and receive a tag to place on their BCs. At Angel City in the south, a ranger politely asked to see my tags. Part of a double reef system, Angel City had a easy beach entry, although like all the southern entries, there are many chunks of sharp ironshore in the sand interspersed with slick rocks that can cut and trip divers when waves come in. The two reefs merged just south of the mooring buoy anchored in the sand and were filled with large boulder star coral and multiple schools of schoolmasters, creole wrasses, blue tangs and bold trumpet fish. Several juvenile spotted drums posed for pictures. While I was told to expect large schools of horse-eyed jacks, I never saw any here or at any other site.
I dived Alice in Wonderland, south of Angel City, three times. On the south end is a canal bringing seawater to the solar salt farm that made a good entry point to go in geared up and avoid the slick rock. It was a long swim to the inner reef but worth it to see colorful boulder star coral, brain coral and tube sponges. Rainbow anemones contained Pederson, squat and spotted cleaner shrimp, often in the same anemone. Five flamingo tongues clung to one gorgonian. Large schools of Creole wrasses and blue tangs were common, as well as hinds and graysbys. I have never seen so many lettuce leaf slugs; one was the size of a small lime.
The Carib Inn made diving easy. I was assigned a number to hold space on the dive boats that also corresponded with a numbered tank. There was a signup board for after-hours tanks, and extra tanks for shore divers were always available day and night. After each dive, I returned my tank to be refilled. Because I went shore diving, I didnít interact much with the staff; they left me alone unless I asked for something and then were friendly and helpful. Multi-day fill packages were also offered but there was no need to purchase one in advance. At the end of my stay, staff looked at my total fills and gave me the package that equaled the best possible deal.
The dive shop is a full-service facility stocked with high-end equipment for sale and rent. My dive buddy had a regulator problem, and Bowker worked on it twice without charge. He was unable to solve the problem but when my friend asked for a rental, Bowker explained that the regulator wouldnít pose safety concerns during the week, and he was right. Nitrox was expensive Ė- fills were $15 each or $179 for six days of unlimited fills (by comparison, the Aggressor boats charge $100 for the week). But Bowker says he doesnít think Nitrox is worth the cost when doing two to three dives daily with huge surface intervals.
Bruce Bowkerís Carib Inn

Diving (experienced)
Diving (beginners)
Snorkeling
Accommodations
Restaurant Food
Service and Attitude
Moneyís Worth
= poor = excellent
Caribbean Scale
Two dive boats went out promptly at 8:30 a.m. and 1:30 p.m. daily for one-tank dives. Boat diving was handled the same way as tank rental -- interested divers could place their number on the sign-up board by the tank fill room. Like the Inn itself, the boats were clean, basic, fiberglass boats powered by large outboards, with large ladders making for easy exits from the water. Boat dives were $15 each, with the best package deal calculated at tripís end. However, only one boat was in use each day and it was never full. With 60 dive sites on Bonaireís western side alone, shore diving never got boring.
There were no currents and most dive sights were shallow with no real reason to go below 60 feet. Visibility ranged from 75 to 100 feet. I was thrilled to find Bonaireís reefs beautiful with zero bleaching. The water temperature ranged from 78 to 81 degrees, while day temperatures were slightly higher.
The Hilma Hooker wreck was a favorite dive site. North of Angel City, the 235-foot freighter sits on her starboard side in 95 feet at the beginning of the double reef, and the top of the wreck is at 50 feet. Itís covered with encrusting sponges, tube and stove pipe sponges, wire coral and orange cup corals. The hull was a favorite nesting place for sergeant majors and I found lots of shrimps. Garden eels and one large stingray lounged in front of the wreck while surrounding it were schools of black durgons, yellowtail snapper and an ocean triggerfish. As Bonaireís most popular dive site, itís crowded with boats each morning so I arrived in the late morning or early afternoon to have it to myself for a shore dive.
As beautiful as the southern reefs were, the northern reefs were more so. The most difficult part was access. From Kralendijk north is a cliff coast broken up by the occasional small rock beach, making getting in and out with dive gear a challenge. Oil Slick Leap was a popular site, as much for the well-placed ladder as the healthy reef. The ladder descends 10 feet down a sharp ironshore cliff, with large clusters of orange cup corals underneath rocks at the bottom. The reef top starts almost immediately from shore at 30 feet, sloping steeply to give the appearance of a small wall. The reefs were dense with soft coral, large black sea rods, sea plumes, even some staghorn coral that was common on Bonaire before Lenny struck. A hawksbill turtle allowed me to swim with him for as long as I wished.
Eating in Bonaire was as enjoyable as the diving -- I didnít have a bad meal. Canít-miss restaurants are Richardís Waterfront Dining and Carpaccio. Richardís is a block south of the Carib Inn. The large, covered terrace made a great dining atmosphere and the bar a great place for a drink beforehand. Steaks and pasta were on the menu but with such fresh fish, expertly prepared in light sauces, it was hard to order anything else. Capriccio specializes in Northern Italian cuisine with less cream and more olive oil. The extensive wine cellar is considered one of the Caribbeanís finest. Entrees ranged from brick-oven pizza and simple pastas to osso bucco and filet mignon. A lobster pasta in a light olive oil and cheese sauce, followed by tiramisu, transported me to Italy.
To get to dive sites, my group rented three Mazda BT50s from A-B car rental at Flamingo Airport. Reservations were made in the U.S. by phone and everything went smoothly. The trucks were a little beat up but ran fine with good air-conditioning. A-B trucksí wooden tank holders bolted onto the truck beds could hold nine tanks and kept them from rolling around and damaging gear. We returned our trucks dirty but undamaged and our deposit was returned. However, in the return line before me was a man being charged for a truck dent marked as pre-existing on his rental form.
Returning to The Carib Inn after an afternoon of shore diving, I found a notice with directions to a turtle nest hatching on the islandís south side. Such is the way Carib Inn does business. Bowkerís staff measure their tenure not in months but years of employment, and he made time to talk to anyone wanting to chat about diving, the island or anything else. That makes booking a room difficult during the peak winter dive season. Reservations are already open for 2009, and regulars are quick to snatch up their favorite rooms.
While Bonaire is not the place to see pelagics or large schools of game fish, itís hard to find anywhere that has its combination of healthy reefs, easy dives, clear water, large schools of reef fish, shrimps and every type of eel found in the Caribbean. I got this on every dive. There are many places to stay but for serious divers desiring a peaceful place where theyíre left alone and free to dive as they please, the Carib Inn is unbeatable.
--D.W.
Diverís Compass: Carib Inn rates start at $99 per night for poolside units without kitchens to $159 for a three-bedroom house, and these rates are not per person but per unit . . . The Innís Web site has a ďLast Minute OpeningsĒ page . . . A $125 non-refundable deposit holds any unit for a one-week stay and, unlike every dive resort Iíve visited, the remainder of charges werenít due until check-out; the five flight-delayed members of my group werenít charged for the missed day . . . The basic charge was $12 per day for one tank, weights and belts; $5 for each additional air fill per day . . . My A-B rental truck was $374 for the week, with a $100 deposit. . . A Continental red-eye flight in January costs approximately $800 from either Houston or Newark; Delta Airlines plans to start nonstops from Atlanta on February 9 . . . Departure tax is US$32 . . . U.S. dollars and major credit cards are widely accepted . . . The hyperbaric chamber is next door to the hospital . . . Web site: www.caribinn.com.