Scuba Diving Mediterranean
including France, Greece, Italy, Portugal, Spain, Cyprus, Croatia, Montserrat
Diving Mediterranean articles, reviews, and reports from Undercurrent
Diving Mediterranean Feature Articles and Reader Reports
Attention!
You must be an
Undercurrent Online Member
to access MOST links in this section. However

some articles can be accessed by the public
-- these links have a

button you can click to see the article.

For Undercurrent Online Members
Mediterranean Dive Reviews

from our Instant Reader Reports
All Availble to Undercurrent Online Members; Some Publicly Available as Indicated

Diving Mediterranean Articles - Land Based


Available to the Public
Fethiye and Kas, Turkey, in search of amphorae on the Mediterranean Coast, 5/10

Diving Mediterranean Articles - Liveaboards


Available to the Public
Aegean Islands, Greece, itÕs the wrecks and wine jugs, not the reefs, 9/10
Mediterranean Dive Reviews
from our Travelin' Divers' Chapbooks
Editor's Book Picks for Scuba Diving Mediterranean
including France, Greece, Italy, Portugal, Spain, Cyprus, Croatia, Montserrat
The books below are my favorites about diving in this part of the world All books are available at a significant discount from Amazon.com; just follow the links. -- BD

Indo-Pacific Coral Reef Field Guide
by Gerald R. Allen, Roger Steene.
I was trying to pack light for a change. Surely the Solomon Sea would have good identification books aboard. Not so; the only book on the boat belonged to a fellow passenger. It was one that I had not seen before, the Indo-Pacific Coral Reef Field Guide, by two of the best fish guys around, Gerry Allen and Roger Steene. The problem was this fellow passenger kept it in a plastic baggie most of the trip and I had to beg to see it. Great book, good traveling size, and it covers everything from fish, shells, marine plants, mammals, corals, and invertebrates to sea birds and more. Now I've got my own, and it won't do you any good to beg me to borrow it. This is one of two books that I will not travel to the Pacific without. Good for travel to the Red Sea, East Africa, Seychelles, Mauritius, Maldives, Andaman Sea, Malaysia, Indonesia, Philippines, Australia, Micronesia, Polynesia, and Hawaii, it has 1,800 color illustrations in a 6x8 1/2 paperback format with 378 pages. $39.95.
---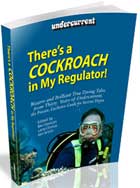 There's a Cockroach in My Regulator
by Undercurrent
The Best of Undercurrent: Bizarre and Brilliant True Diving Tales from Thirty Years of Undercurrent.

Shipping now is our brand new, 240-page book filled with the best of the unusual, the entertaining, and the jaw dropping stories Undercurrent has published. They're true, often unbelievable, and always fascinating. We're offering it to you now for the special price of just $14.95.

Click here to order.
---
You might find some other books of interest in our Editor's Book Picks section.