Free Dive News Serious Divers Need, Every Month!

Plan Your Dive Trip
Your Dive Trip Advisor:
Get the real scoop from 6000+ dive trip reports on any dive resort or liveaboard. Organized by destination and even by diving resort and liveaboard. Includes popular ones such as: Bahamas, Belize, Bonaire, Caymans, Cozumel, Honduras, Hawaii, Fiji, Indonesia, Palau, PNG and more.
File a report (subscribers only)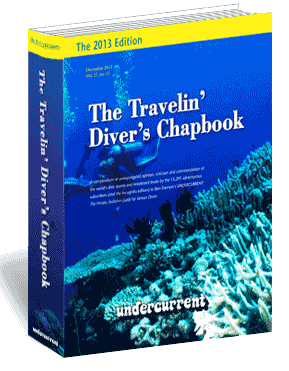 Get the Brand New,
Online 700-page
2013 Travelin' Diver's Chapbook
(subscribers only)
---
Dive Gear Reviews & Recalls
- Recalls, regulators, dive computers, UW photo, ...

Diving Health & Safety
- Accidents, DCS, medical studies, stings and bites, ...

Environment, Misc. Diving
- Marine environment, dive industry, legal, insurance, travel, ...
Mini Chapbook
You can generate a Mini Chapbook ("MCB") for any dive destination of your choice.
Scuba Diving's Most Unbiased Information Source Since 1975
Whether you're in search of the best dive operation in Cozumel, looking for a live-aboard in Indonesia or Fiji, or news about a dive computer recall, you're in the market for scuba diving information that's independent, authoritative, and easy to find.
Welcome to the online edition of Undercurrent, the serious diver's source for unbiased, ad-free reviews of dive destinations, dive operations, and dive equipment since 1975.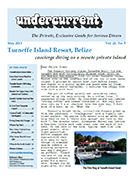 At a recent event sponsored by the Reef Environmental Education Foundation (REEF), Mel McCombie learned firsthand why this invasive species is so successful in the Atlantic and Caribbean. Read the bad news, and the good, about getting lionfish under control.... Read more >
---
What to Tip on Your Next Dive Trip, 05/2013
There's probably no topic that brings up as much debate and opinion among divers as tipping -- how much, when, who and how many people to tip. Read Part I of our tipping story, in which Undercurrent readers have their say.... Read more >
---
Read a sample issue:
[As Normal Web Pages] [Original PDF Version]



From the May issue, Subscribers and Members can download the entire issue or individual articles
and read about:

• Turneffe Island Resort, Belize: concierge diving on a remote private island
• but this resort has some annoying documents it wants you to sign before booking
• maiden voyage kinks in Thailand, and a rude photo pro in Bonaire
• is your dive computer correct?
• cause of death: a deteriorated mouthpiece?
• what to tip on your next dive trip: Part I
• how many calories you really burn while diving
• why divers should know CPR -- especially when diving overseas
• And much more

What's this?

Browse Current Issue | Browse Recent Issues
Undercurrent subscribers can now download the 2012 Chapbook with over 600 reports on liveaboards/dive resorts worldwide, or have it emailed to you, here. Additionally subscribers can generate their own Mini Chapbooks here -- non-subscribers can also do this here.
---
Editor's Pick of the month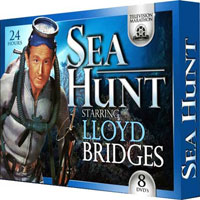 Sea Hunt TV Series (24 Hour Marathon)

Starring Lloyd Bridges, Jeff Bridges, Beau Bridges
If you're old enough, you'll remember how you first got hooked on diving by watching Mike Nelson, ex-frogman turned freelance scuba diver, outwitting villains, disarming nuclear missiles and rescuing victims underwater, all while wearing a wetsuit and fins. The series Sea Hunt, which ran on TV between 1958 and 1961, ignited the craze for recreational scuba diving at a time when it was still brand new. Each episode (with star Lloyd Bridges doing mostly voiceover narration as obviously it's hard to emote while underwater) brought adventure and included pleas to viewers to understand and protect the marine environment.

Sea Hunt's four seasons of episodes have been hard to find on DVD until now. Sea Hunt - 24 Hour Television Marathon, an 8-DVD collection priced at $30, just went on sale at Amazon. Bridges' two sons, Beau and Jeff, started their acting careers here, making appearances when both were tater tots. You can also order Seasons 1 through 4 separately for $15 each.

Click here to order through Undercurrent and you'll get Amazon's best price -- and our profits will go to save coral reefs.
Read These Important Undercurrent Features
• Camera Housing Leak Tests, 04/2013
• Humans Have Changed Stingrays' Ways, 04/2013
• Kasai Village, Cebu, Philippines, 03/2013
• Cedar Beach Ocean Lodge, B.C., Canada, 02/2013
• Diving in "Shark-Infested" Waters, 02/2013
• Death in Belize from Exploding Tanks, 01/2013
• A 24-Hour Sea Hunt Marathon, 01/2013
• Need a New Wetsuit?, 11/2012
• Who Is That Masked Man?, 11/2012
• Atomic Aquatics Recalls 4,200 Dive Computers in North America, 10/2012
• Is This Dive Operator Right or Wrong? 10/2012
• Jardines de la Reina, Cuba, 09/2012
• Is a Caribbean Cruise for Serious Divers?, 09/2012
• An Insider's Tips on Bonaire, 08/2012
• CO Poisoning Risk Higher Than You Think, 07/2012
• Why You Might Remove Your Regulator When You Shouldn't, 06/2012
• DEMA Versus the National Ocean Policy, 06/2012
• 189 Failures Lead to Recall of 17,000 Miflex Hoses, 05/12
• Taking Kids on Your Next Dive Trip, 05/12
• Living Underwater, Cozumel, Mexico, 04/12
• Why You Should Skip Trip Insurance, 04/12
• The "Discover Scuba Diving" Programs, 03/12
• Flying After Diving: A Threat Worse than the Bends, 03/12
• Dive Stores in the Internet Age, 02/12
• Raja Ampat Liveaboard Goes Down in Flames, 02/12
• Scubapro Nixes its "Free Parts for Life" Program, 01/12
• Insurance for Your Next Dive Trip, 01/12
• Arenui, Komodo Island, Indonesia, 11/11
• The Fins Sharks Like Best, 11/11
• The Painful, Disabling Sting of a Lionfish, 10/11
• Have Lionfish Met Their Match?, 10/11
• I Can See Clearly Now ... Underwater, 09/11
• The Raja Ampat Explained, 08/11
• The Most Dangerous Fish, 07/11
• Emergency Breathing from Your BCD, 06/11
• Edge and HOG BCDs Pose a Danger, 05/11
• Sharks Under Siege: Part II, 05/11
• Sharks Under Siege: Part I, 04/11
• S/V Mandarin Siren, Raja Ampat, Indonesia, 03/11
• The Raja Ampat Debate, 03/11
• Scuba Tanks as Lethal Weapons, 02/11
• Jim Abernethy Catches a Few Teeth, 02/11
• Where Travel Insurance Counts, 01/11
• At Last, Justice in Belize, 01/11
• The Skinny on No-See-Ums, 9/07
• No-See-Ums, More Than Just an Irritation1/00


Hide -