Free Dive News Serious Divers Need, Every Month!

Plan Your Dive Trip
Your Dive Trip Advisor:
Get the real scoop from 6000+ dive trip reports on any dive resort or liveaboard. Organized by destination and even by diving resort and liveaboard. Includes popular ones such as: Bahamas, Belize, Bonaire, Caymans, Cozumel, Honduras, Hawaii, Fiji, Indonesia, Palau, PNG and more.
File a report (subscribers only)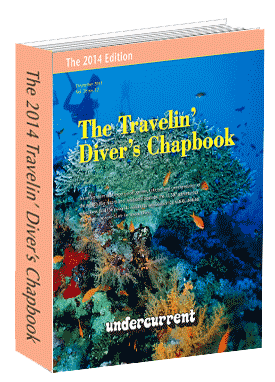 Get the
Online 824-page
2014 Travelin' Diver's Chapbook
(subscribers only)
---
Dive Gear Reviews & Recalls
- Recalls, regulators, dive computers, UW photo, ...

Diving Health & Safety
- Accidents, DCS, medical studies, stings and bites, ...

Environment, Misc. Diving
- Marine environment, dive industry, legal, insurance, travel, ...
Mini Chapbook
You can generate a Mini Chapbook ("MCB") for any dive destination of your choice.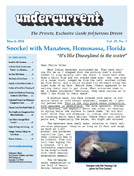 If you're going on a land-based dive trip overseas and opting to go out with a local dive operator while there, choose wisely. From boat explosions to boat "captains" who don't keep track of divers, Second- and Third-World dive destinations are rife with accidents that injure or kill visiting divers. A recent example: three Thai liveaboards that sank within a three-week period. ..., Read more >

From the March issue, Subscribers and Members can download the entire issue or individual articles
and read about:
• Snorkel with Manatees, Homosassa, Florida - like Disneyland in the water
• We want the GPS coordinates to this Alabama dive site
• Sau Bay Fiji Retreat: a South Seas paradise with top-notch diving
• Dive travel perils: missed flights and gluten-free food requests
• A must-have guide to tropical marine life
• The decline of dive training: part I
• Why you should choose your overseas dive boat wisely
• Two deaths at one of Indonesia's most dangerous dive sites
• Can nitrox damage blood vessels?
• How narcosis affects memory and thought processing
• and much more
Read a sample issue:
[As Normal Web Pages] [Original PDF Version]
Latest Reader Reports

from the serious divers who read Undercurrent
All 7000+
Reports
Indigo Divers Report in Cayman Islands/Grand Cayman
filed Mar 5, 2014 by Pam Cook (experience 51-100 dives)

We have been diving in Grand Cayman for several years and always dive with Indigo Divers. They are extremely knowledgable, professional and safety conscious. They make the p... ... Read more

---

Living Underwater/Cozumel Palace Report in Cozumel and the Mexican Yucatan
filed Mar 2, 2014 by Steven Skiba (experience 251-500 dives)

This is our 2nd time diving with Jeremy. He has the fastest boat on the Island, boat trips to all sites were fast and comfortable. He and his crew take care of everything: inc... ... Read more

---

Anthony's Key Resort Report in Honduras/Sandy Bay
filed Feb 28, 2014 by Jack T (experience 101-250 dives)

Check in was easy and my bags were already at my cabin when I got there. Assigned a storage locker and dive boat for the week. Just write your locker number on the chalk board... ... Read more

---

Nautilus Explorer Report in Mexico (Western)/Socorro
filed Feb 27, 2014 by Michael J. Millet (experience Over 1000 dives)

This was my 7th trip to the Socorro Islands aboard the Nautilus Explorer. Due to exercises by the Mexican Navy (perhaps a few chin-ups), we were unable to dive at Socorro Isla... ... Read more

---

Buddy Dive Resort/SunRental Ocean Front Apartments Report in Bonaire
filed Feb 24, 2014 by Henry O Ziller (experience 251-500 dives)

Bonaire is quite nice, a rather small island, easy to get around and not any more expensive than most other Caribbean islands. We did all shore diving and found it takes a lit... ... Read more

---

What's this?

Browse Current Issue | Browse Recent Issues
Undercurrent subscribers can now download the 2014 Chapbook with over 600 reports on liveaboards/dive resorts worldwide, or have it emailed to you, here. Additionally subscribers can generate their own Mini Chapbooks here -- non-subscribers can also do this here.
---
Editor's Pick of the month

Reef Life: A Must Have Guide to Tropical Marine Life

by Brandon Cole and Scott Michael
What? Another fish ID book when you thought Paul Humanns and Ned Deloachs were enough? Yes indeed, and while I rarely say this, Reef Life: A Guide to Tropical Marine Life is a must-have for the library of every traveling diver. And if you only want one ID book, this is it.

Click here to order through Undercurrent and you'll get Amazon's best price -- and our profits will go to save coral reefs.
Read these free articles from past issues:
• Buddy Dive Shut Down in the Galapagos, 02/14
• Divers Who Get Lost at Sea, 02/14
• Lionfish: The Caribbean Endgame, 02/14
• Travel Tips & Helpful Dive Hints: Part I, 01/14
• This Dive Resort is Taking a Stand, 01/14
• Husband Sues PADI for Wife's Death from Carbon Monoxide, 01/14
• The Fight to Stop Seahorse Photography, 11/2013
• Can a Diver with Heart Issues Have an Accidental Death?, 10/2013
• I'm Offended by This!, 10/2013
• The Disappearing Recompression Chamber, 09/2013
• SeaQuest Dive Center, Philippines, 08/2013
• Shark Baiting and Feeding, 07/2013
• Problems with Weight Pockets, 06/2013
• Lionfish Update: The Good and Bad News, 05/2013
• What to Tip on Your Next Dive Trip, 05/2013
• Camera Housing Leak Tests, 04/2013
• Humans Have Changed Stingrays' Ways, 04/2013
• Kasai Village, Cebu, Philippines, 03/2013
• Cedar Beach Ocean Lodge, B.C., Canada, 02/2013
• Diving in "Shark-Infested" Waters, 02/2013
• Death in Belize from Exploding Tanks, 01/2013
• A 24-Hour Sea Hunt Marathon, 01/2013
• Need a New Wetsuit?, 11/2012
• Who Is That Masked Man?, 11/2012
• Atomic Aquatics Recalls 4,200 Dive Computers in North America, 10/2012
• Is This Dive Operator Right or Wrong? 10/2012
• Jardines de la Reina, Cuba, 09/2012
• Is a Caribbean Cruise for Serious Divers?, 09/2012
• An Insider's Tips on Bonaire, 08/2012
• CO Poisoning Risk Higher Than You Think, 07/2012
• Why You Might Remove Your Regulator When You Shouldn't, 06/2012
• DEMA Versus the National Ocean Policy, 06/2012
• The Skinny on No-See-Ums, 9/07
Satisfaction guaranteed
or your money back!



Diving Insider's Blogs
Undercurrent's Divers' Blogs feature prominent diving experts and insiders speaking their minds. The latest posts:
• California's Deadliest Catch: The Secret Driftnet Fishery for Swordfish and Shark Off Our Coast by Todd Steiner
• The Real Thing by Bob Halstead
• Buoyancy Control by John Bantin
• Conservation in Raja Ampat and the Greater Birds Head Seascape by Dr Mark Erdmann & Maurine Shimlock
• The Manatees' Winter Vacation by Guest Blogger

More »»
The Diving Magazine Trusted by Serioud Divers Since 1975
Whether you're in search of the best dive operation in Cozumel, looking for a live-aboard in Indonesia or Fiji, or news about a dive computer recall, you're in the market for scuba diving information that's independent, authoritative, and easy to find. Published continuously since 1975, we're the source that serious divers have always trusted. Read more
Welcome to the online edition of Undercurrent, the serious diver's source for unbiased, ad-free reviews of dive destinations, dive operations, and dive equipment since 1975.
Ask Other Divers
Our Divers' Forum provides serious divers to communicate with one another. The latest topics:
• whale sharks off Yucatan
• Stalking Permit?
• Choosing a BCD
• review for galileo luna
• Whistling Ear
• Diving with asthma.