Free Dive News Serious Divers Need, Every Month!

Plan Your Dive Trip
Your Dive Trip Advisor:
Get the real scoop from 6000+ dive trip reports on any dive resort or liveaboard. Organized by destination and even by diving resort and liveaboard. Includes popular ones such as: Bahamas, Belize, Bonaire, Caymans, Cozumel, Honduras, Hawaii, Fiji, Indonesia, Palau, PNG and more.
File a report (subscribers only)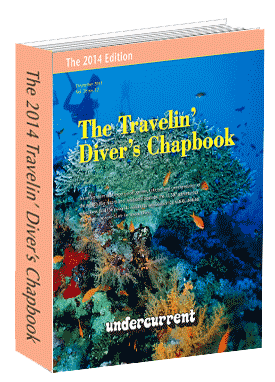 Get the
Online 824-page
2014 Travelin' Diver's Chapbook
(subscribers only)
---
Dive Gear Reviews & Recalls
- Recalls, regulators, dive computers, UW photo, ...

Diving Health & Safety
- Accidents, DCS, medical studies, stings and bites, ...

Environment, Misc. Diving
- Marine environment, dive industry, legal, insurance, travel, ...
Mini Chapbook
You can generate a Mini Chapbook ("MCB") for any dive destination of your choice.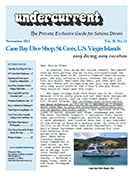 It was only a few years ago that the boss of a big diving company based in Egypt's Red Sea region asked my advice regarding the intrusion by photographers on animals underwater. His guides had hit upon the idea of banning the use of strobes by underwater photographers because it did the animals harm, but this was causing customer divers to be upset and losing him a lot of future business., Read more >
Undercurrent Awards Grants to Three Very Special Divers, 10/2013
Read more >
Read a sample issue:
[As Normal Web Pages] [Original PDF Version]
Latest Reader Reports

from the serious divers who read Undercurrent
All 7000+
Reports
Kungkungan Bay Resort Report in Indonesia/Lembeh Strait
filed Dec 11, 2013 by Steve Dussault (experience 501-1000 dives)

Lembeh Strait Indonesia BOOKING: Our booking process went very smoothly. Everything was handled via e-mail and responses were very quick especially considering the time ... ... Read more

---

Kungkungan Bay Resort Report in Indonesia/Lembeh Strait
filed Dec 10, 2013 by Sheri Sandes (experience 101-250 dives)

An important note - if you travel via Singapore, you may want to collect your luggage and transfer to Silk air on your own. We arrived in Manado (closest airport to Lembeh Str... ... Read more

---

Borneo Divers Report in Malaysia/Sipadan
filed Dec 8, 2013 by Charlie Wright (experience 251-500 dives)

Short answer - amazing! My dive partner is an IDC PADI Staff Instructor who has been diving 28 years since age 12. Sipadan was her best dive site ever as it certainly was mi... ... Read more

---

Scuba Montserrat Report in Caribbean (General)/Montserrat
filed Dec 5, 2013 by Mark A. Magers (experience 251-500 dives)

We spent 5 days diving with Emmy and Andrew of Scuba Montserrat, and were very happy to see a good underwater environment. With the exception of some algae, it compares favora... ... Read more

---

Ocean Frontiers/Compass Point Report in Cayman Islands/East End, Grand Cayman
filed Dec 3, 2013 by Lindsay Battles (experience 51-100 dives)

We spent 5 days with Ocean Frontiers were spoiled in every regard. No surprise that many guests return to this resort annually. The entire operation is extremely well-organize... ... Read more

---

From the November issue, Subscribers and Members can download the entire issue or individual articles
and read about:

• Easy, fishy diving in St. Croix's Cane Bay
• On the hunt for 1,337 fish aboard New England Aquarium's liveaboard expedition
• Some dive operators who need to change their rules
• How long will your dive computer really last?
• Buy a Cockroach for Christmas
• Travel tips for surviving long-haul flights overseas
• It's not photography strobes that are harming the seahorses
• Why divers should get excited about The Wave
• And much more

What's this?

Browse Current Issue | Browse Recent Issues
Undercurrent subscribers can now download the 2013 Chapbook with over 600 reports on liveaboards/dive resorts worldwide, or have it emailed to you, here. Additionally subscribers can generate their own Mini Chapbooks here -- non-subscribers can also do this here.
---
Read These Important Undercurrent Features
• Can a Diver with Heart Issues Have an Accidental Death?, 10/2013
• I'm Offended by This!, 10/2013
• The Disappearing Recompression Chamber, 09/2013
• SeaQuest Dive Center, Philippines, 08/2013
• Shark Baiting and Feeding, 07/2013
• Problems with Weight Pockets, 06/2013
• Lionfish Update: The Good and Bad News, 05/2013
• What to Tip on Your Next Dive Trip, 05/2013
• Camera Housing Leak Tests, 04/2013
• Humans Have Changed Stingrays' Ways, 04/2013
• Kasai Village, Cebu, Philippines, 03/2013
• Cedar Beach Ocean Lodge, B.C., Canada, 02/2013
• Diving in "Shark-Infested" Waters, 02/2013
• Death in Belize from Exploding Tanks, 01/2013
• A 24-Hour Sea Hunt Marathon, 01/2013
• Need a New Wetsuit?, 11/2012
• Who Is That Masked Man?, 11/2012
• Atomic Aquatics Recalls 4,200 Dive Computers in North America, 10/2012
• Is This Dive Operator Right or Wrong? 10/2012
• Jardines de la Reina, Cuba, 09/2012
• Is a Caribbean Cruise for Serious Divers?, 09/2012
• An Insider's Tips on Bonaire, 08/2012
• CO Poisoning Risk Higher Than You Think, 07/2012
• Why You Might Remove Your Regulator When You Shouldn't, 06/2012
• DEMA Versus the National Ocean Policy, 06/2012
• The Skinny on No-See-Ums, 9/07
Satisfaction guaranteed
or your money back!



Order dive books through Undercurrent and you'll get Amazon's best price -- and our profits will go to save coral reefs.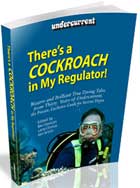 The Best of Undercurrent:: There's a Cockroach in My Regulator
Bizarre and Brilliant True Diving Tales from Thirty Years of Undercurrent.
Diving Insider's Blogs
Undercurrent's Divers' Blogs feature prominent diving experts and insiders speaking their minds. The latest posts:
• Dive Community Makes Key Contribution to Philippines Relief Effort by Guest Blogger
• ZACATON: The Tragic Death of Sheck Exley by Bret Gilliam
• Mask Musings by John Bantin
• I'm Offended by This! by Bob Halstead
• Before Mike Nelson and Jacques Cousteau by Ben Davison

More »»
The Diving Magazine Trusted by Serioud Divers Since 1975
Whether you're in search of the best dive operation in Cozumel, looking for a live-aboard in Indonesia or Fiji, or news about a dive computer recall, you're in the market for scuba diving information that's independent, authoritative, and easy to find. Published continuously since 1975, we're the source that serious divers have always trusted. Read more
Welcome to the online edition of Undercurrent, the serious diver's source for unbiased, ad-free reviews of dive destinations, dive operations, and dive equipment since 1975.
Ask Other Divers
Our Divers' Forum provides serious divers to communicate with one another. The latest topics:
• Need A Manual For A U.S. Divers Matrix Master Dive Computer
• Getting sick while on a dive foreign vacation—what to do?+
• Caribbean destinations for non-diver partner
• snorkeling
• Belize-SunBreeze Hotel and Aqua Dives
• Prescription mask