Free Dive News Serious Divers Need, Every Month!

Plan Your Dive Trip
Your Dive Trip Advisor:
Get the real scoop from 6000+ dive trip reports on any dive resort or liveaboard. Organized by destination and even by diving resort and liveaboard. Includes popular ones such as: Bahamas, Belize, Bonaire, Caymans, Cozumel, Honduras, Hawaii, Fiji, Indonesia, Palau, PNG and more.
File a report (subscribers only)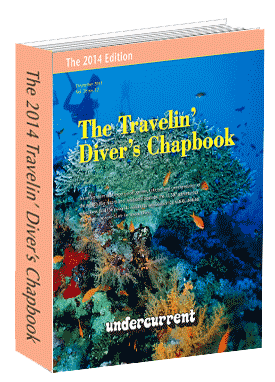 Get the
Online 824-page
2014 Travelin' Diver's Chapbook
(subscribers only)
---
Dive Gear Reviews & Recalls
- Recalls, regulators, dive computers, UW photo, ...

Diving Health & Safety
- Accidents, DCS, medical studies, stings and bites, ...

Environment, Misc. Diving
- Marine environment, dive industry, legal, insurance, travel, ...
Mini Chapbook
You can generate a Mini Chapbook ("MCB") for any dive destination of your choice.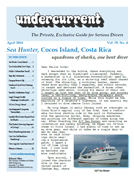 Sea Hunter, Cocos Island: "I caught up with the rest of my dive group, and minutes later, a ten-foot-long, heavy-bodied Galapagos shark circled us a couple of times. While this might be the beginning of a neophyte's nightmare, it was exactly why I returned to dive remote Cocos Island." ... Read more >
Tax-Deductible Cocos Dive Trips, and Others Around the World, 04/2014
Our Cocos Island writer visited there before on trips to help environmental not-for-profits monitor the health of sharks and turtles. You can do the same thing -- and possible get a tax writeoff as well. Read our list of dive trips done for good causes, and what you can do to get a tax deduction ... Read more >
The Decline of Dive Training: Part II, 04/2014
The Decline of Good Dive Training: Part II -- Here's the second piece of dive veteran Bret Gilliam's two-part story on dive training and where it's headed, both for better and for worse ... Read more >

From the April issue, Subscribers and Members can download the entire issue or individual articles
and read about:
• Sea Hunter, Costa Rica: squadrons of sharks, one bent diver
• Tax-deductible dive trips to take around the world
• Hollis recalls some Explorer rebreather models
• Pesky politics in Mexico, squirrely harbormasters in Indonesia
• Should you worry about the dengue outbreak in Fiji?
• Bret Gilliam's second piece in his two-parter about the decline of good dive training
• Legal charges scuttle Buddy DIve's liveaboards in the Galapagos
• Why do divers avoid gas-integrated computer transmitters?
• Divers plus lionfish equals food to sharks
• How freediving is to diving what snowboarding was to skiing
• and much more
Read a sample issue:
[As Normal Web Pages] [Original PDF Version]
Latest Reader Reports

from the serious divers who read Undercurrent
All 7000+
Reports
Octopus Diving/Hotel L'Esplanade Report in St. Maarten/French Side
filed Apr 16, 2014 by Jack Aland (experience 51-100 dives)

We did two tank dives on 4 days that we were there. They have three boats of differing size, so they can accomodate different size groups, and we were able to go to different ... ... Read more

---

Divi Flamingo Report in Bonaire
filed Apr 15, 2014 by Ken (experience 501-1000 dives)

10th time in Bonaire. About 6 at divi. We chose it due to easy dock diving and closeness to restaurants. As always the diving was easy and great. Lots of small macro critters.... ... Read more

---

Hugh Parkey's /Sunbreeze hotel Report in Belize/San Pedro
filed Apr 14, 2014 by Emily Dalton (experience 101-250 dives)

Our travel agent who specializes in dive travel suggested staying at the Sunbreeze hotel (very nice) and diving with Hugh Parkey's (not so nice). We pre-paid for 10 dives, ... ... Read more

---

Golden Rock Dive Center/The Old Gin House Report in St. Eustatius
filed Apr 13, 2014 by Mark F Ward (experience 101-250 dives)

This was our first visit to St. Eustatius (Statia for short). Statia is probably a lot like the rest of the Caribbean was 50 years ago: No cruise ships, almost no shopping, ... ... Read more

---

Aldora Divers/melia Report in Cozumel and the Mexican Yucatan/cozumel
filed Apr 13, 2014 by Henry Goichman (experience 251-500 dives)

[None] Went on 6 dives with Aldora divers. The best dive was Punta Sur. The coral, while in good shape, was not colorful and visibility ranged from poor to very good. There ... ... Read more

---

What's this?

Browse Current Issue | Browse Recent Issues
Undercurrent subscribers can now download the 2014 Chapbook with over 600 reports on liveaboards/dive resorts worldwide, or have it emailed to you, here. Additionally subscribers can generate their own Mini Chapbooks here -- non-subscribers can also do this here.
---
Editor's Pick of the month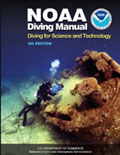 NOAA Diving Manual, 5th Edition.
For years, the NOAA Diving Manual has been a mainstay in the library of every professional diver and plenty of us serious divers, too. Hands down, it is the industry's major, unbiased diving reference. Last published in 2001, it has now been updated into the all-new Fifth Edition. With 875 full-color pages, it's the most detailed diving reference book available, yet written in lay language for all divers to thoroughly understand and enjoy.

Click here to order through Undercurrent and you'll get Amazon's best price -- and our profits will go to save coral reefs.
Read these free articles from past issues:
• Choose Your Dive Boat Wisely, 03/14
• Buddy Dive Shut Down in the Galapagos, 02/14
• Divers Who Get Lost at Sea, 02/14
• Lionfish: The Caribbean Endgame, 02/14
• Travel Tips & Helpful Dive Hints: Part I, 01/14
• This Dive Resort is Taking a Stand, 01/14
• Husband Sues PADI for Wife's Death from Carbon Monoxide, 01/14
• The Fight to Stop Seahorse Photography, 11/2013
• Can a Diver with Heart Issues Have an Accidental Death?, 10/2013
• I'm Offended by This!, 10/2013
• The Disappearing Recompression Chamber, 09/2013
• SeaQuest Dive Center, Philippines, 08/2013
• Shark Baiting and Feeding, 07/2013
• Problems with Weight Pockets, 06/2013
• Lionfish Update: The Good and Bad News, 05/2013
• What to Tip on Your Next Dive Trip, 05/2013
• Camera Housing Leak Tests, 04/2013
• Humans Have Changed Stingrays' Ways, 04/2013
• Kasai Village, Cebu, Philippines, 03/2013
• Cedar Beach Ocean Lodge, B.C., Canada, 02/2013
• Diving in "Shark-Infested" Waters, 02/2013
• Death in Belize from Exploding Tanks, 01/2013
• A 24-Hour Sea Hunt Marathon, 01/2013
• Need a New Wetsuit?, 11/2012
• Who Is That Masked Man?, 11/2012
• Atomic Aquatics Recalls 4,200 Dive Computers in North America, 10/2012
• Is This Dive Operator Right or Wrong? 10/2012
• Jardines de la Reina, Cuba, 09/2012
• Is a Caribbean Cruise for Serious Divers?, 09/2012
• An Insider's Tips on Bonaire, 08/2012
• CO Poisoning Risk Higher Than You Think, 07/2012
• Why You Might Remove Your Regulator When You Shouldn't, 06/2012
• DEMA Versus the National Ocean Policy, 06/2012
• The Skinny on No-See-Ums, 9/07
Satisfaction guaranteed
or your money back!


Heartbleed bug: Not a problem on our website

Diving Insider's Blogs
Undercurrent's Divers' Blogs feature prominent diving experts and insiders speaking their minds. The latest posts:
• Free Diving Hazards by Bret Gilliam
• Can coral polyps grow in my skin? by Doc Vikingo
• California's Deadliest Catch: The Secret Driftnet Fishery for Swordfish and Shark Off Our Coast by Todd Steiner
• The Real Thing by Bob Halstead
• Buoyancy Control by John Bantin

More »»
The Diving Magazine Trusted by Serioud Divers Since 1975
Whether you're in search of the best dive operation in Cozumel, looking for a live-aboard in Indonesia or Fiji, or news about a dive computer recall, you're in the market for scuba diving information that's independent, authoritative, and easy to find. Published continuously since 1975, we're the source that serious divers have always trusted. Read more
Welcome to the online edition of Undercurrent, the serious diver's source for unbiased, ad-free reviews of dive destinations, dive operations, and dive equipment since 1975.
Ask Other Divers
Our Divers' Forum provides serious divers to communicate with one another. The latest topics:
• Flotsam and Jetsam
• Hotel cozumel & all inclusive
• I get periodic inquiries RE the long-term effects of SCUBA on hearing.
• Palau Liveaboard in December...but also Truk/Chuuk and/or Yap?
• Cayman Aggressor
• review for galileo luna