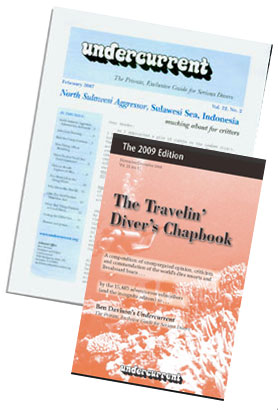 Dear Current and Past Subscribers,

In a sport where the equipment is always top-rated, the travel agents are all trustworthy, dive resorts are all five-star, and the $15,000 ad is on the page next to the review, Undercurrent stands alone in representing divers as consumers. We're the only publication Business Week called "The Consumer Reports of diving."

Every month, Undercurrent brings you the inside skinny on where to dive, where not to dive, which dive operators to dive with and which ones to avoid, which dive manufacturers live up to their claims and which ones fail miserably, and a whole lot more hard-hitting info you will not see anywhere else.


And each month, you'll get a copy of Undercurrent in your mail box, with November/December combined as the latest edition of The Travelin' Diver's Chapbook.

The Travelin' Diver's Chapbook is a collection of dive resort and live-aboard critiques by Undercurrent readers and editors. It's filled with more than 500+ pages of straight-shooting, no-holds-barred comments about resorts, hotels, and live-aboards at hundreds of destinations worldwide. See examples reviews

For the most informed, unbiased scoop on worldwide diving, straight from your fellow divers, complete and mail/fax the renewal form back to us or call 800-326-1896.