Scuba Diving Brazil
Diving Brazil articles, reviews, and reports from Undercurrent
Diving Brazil Overview
Fernando de Noronha, four degrees south of the equator, is the only inhabited island in an archipelago off the Atlantic coast of Brazil. You can fly there from Recife, which has an international airport.As if its remoteness weren't' protection enough, its waters and wildlife are well-guarded by the Brazilian government. Development is severely limited. It's a refreshing change from the Caribbean. Jagged, dramatic boulders, thoroughly encrusted in colorful sponges, algae, and hard coral, dominate the underwater landscape. Expect to see nurse sharks, reef sharks, rays, turtles, barracudas, green and spotted morays, schools of large fish, as well as plentiful tropicals such as black margates, Bermuda chub, small mouth grunts, conies, Spanish hogfish, brown chromis, sergeant majors, parrotfish, spotted goatfish, scrawled filefish, French and queen angelfish, black bar soldierfish, cocoa damselfish, and long-spined squirrelfish.
Topside scenery is spectacular, with rugged volcanic rock formations, tropical forests, gorgeous beaches and scenic mountains. Shopping is limited and the nightlife is nonexistent, so restaurant hopping is the entertainment.
On the southern coast, 2 hours by car from Rio de Janeiro, Arraial do Cabo Marine Reserve is considered the best scuba diving. The turquoise water teems with turtles, sea horses, moray eels, colorful coral and some exotic tropicals like queen angelfish.
Brazil Seasonal Dive Planner
Year-round daytime air temperatures on the equator are in the mid to upper 80's, 70's at night. March and July are quite windy, and April, May and June are the wettest months. Water temps run 78 to 79 F. Best time of the year is from July to November for beginners, all year round for advanced divers. December to February is the top of the high season with lots of people and high prices. Some years, December and January can be too rough to dive.
Diving Brazil Feature Articles and Reader Reports
Attention!
You must be an
Undercurrent Online Member
to access MOST links in this section. However

some articles can be accessed by the public
-- these links have a

button you can click to see the article.

For Undercurrent Online Members
Brazil Dive Reviews

from our Instant Reader Reports
All Availble to Undercurrent Online Members; Some Publicly Available as Indicated
Diving Brazil Articles - Land Based
Available to the Public
Fernando de Noronha, Brazil, unique diving, better than Caribbean prices, 8/01
Brazil Dive Reviews
from our Travelin' Divers' Chapbooks
Editor's Book Picks for Scuba Diving Brazil

The books below are my favorites about diving in this part of the world All books are available at a significant discount from Amazon.com; just follow the links. -- BD

Reef Life: A Must Have Guide to Tropical Marine Life
by Brandon Cole and Scott Michael
What? Another fish ID book when you thought Paul Humanns and Ned Deloachs were enough? Yes indeed, and while I rarely say this, Reef Life: A Guide to Tropical Marine Life is a must-have for the library of every traveling diver. And if you only want one ID book, this is it.

Click here to order through Undercurrent and you'll get Amazon's best price -- and our profits will go to save coral reefs.
---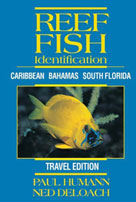 Travel Edition of Reef Fish Identification: Caribbean, Bahamas, South Florida
by Paul Humann and Ned DeLoach
Today's airline weight restrictions not only limit the amount of dive gear and cameras you can pack for overseas trips, but also those valuable prized marine life identification books. And with spotty Internet access overseas, it's not like you can look a critter of or fish up easily online. For the divers who still want a book in their hands post-dive to look up the fishes they encounter, Paul Humann and Ned DeLoach are offering "Travel Edition of Reef Fish Identification: Caribbean, Bahamas, South Florida." It's lightweight enough to thrown in your carry-on but rugged enough to withstand frequent saltwater washings on board.

Click here to buy it at Amazon via our website -- our profits go to save the reefs.
---
The Reef Set: Reef Fish, Reef Creature and Reef Coral (3 Volumes):
Paul Humann ID Books
by Paul Humann, Ned Deloach
The three set fish, creature and coral ID books by Paul Humann are the unparalleled sources for information on Caribbean sea life and identification. Paul and his partner Ned Deloach recently released updated and expanded editions of each, with scores of new critters, even better photos, and information unavailable anywhere else. Why, the Reef Fish Identification book, at more than 500 pages, is 20 percent larger than the previous volume, which came out in 1994. Whenever I travel to the Caribbean, I tote all three books and spend my down hours figuring out what I saw and where to look to find rare creatures. Paul's splendid Reef Creature book (420 pages), covers sponges, nudibranchs, octopus, crustaceans, Christmas tree worms and plenty more. His Reef Coral ID book (276 pages) helps you identify all the hard and soft corals, spawning, and even the growth on top of corals, as well as algae and other plant life. Beginners may want to ID only fish, but I'd recommend that all three books be part of every diver's library. And, if you have an old set, by all means replace it. You'll be delighted at the additions and improvements. Each book normally retails for $40, but are discounted when you order here. And the boxed 3-volume set is available now at a bigger discount, up to 30%. You'll get the best prices Amazon.com has to offer, speedy delivery, and the knowledge that a large hunk of our profit will go to preserve coral reefs.
* Reef Fish Identification: Florida Caribbean Bahamas,
* Reef Creature Identification: Florida Caribbean Bahamas, and
* Reef Coral Identification: Florida Caribbean Bahamas
* The Boxed Set of all three (you can save up to 30%)
---
You might find some other books of interest in our Editor's Book Picks section.