What Our Readers Say About Us
You've heard enough from us,
so let our reader's tell you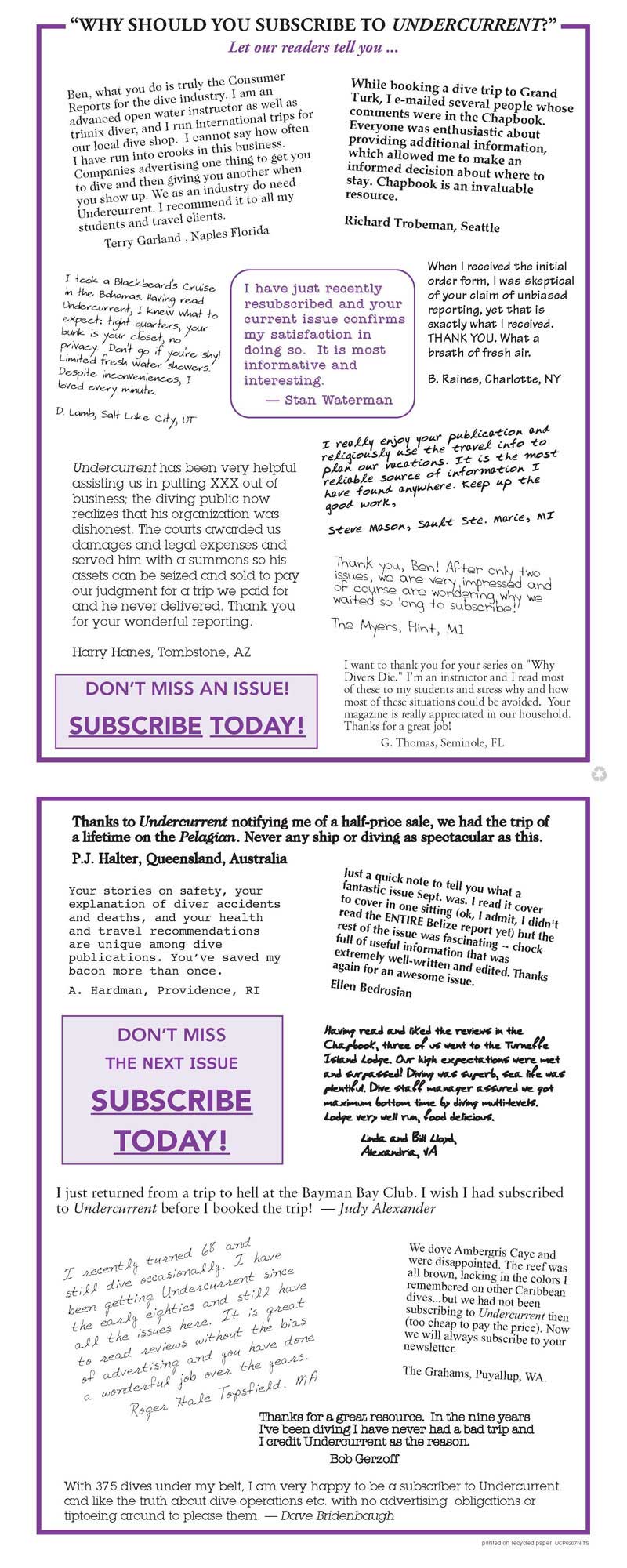 WHY SHOULD YOU SUBSCRIBE TO UNDERCURRENT?
Let our readers tell you ...
Ben, what you do is truly the Consumer Reports for the dive industry. I am an advanced open water instructor as well as trimix diver, and I run international trips for our local dive shop. I cannot say how often I have run into crooks in this business. Companies advertising one thing to get you to dive and then giving you another when you show up. We as an industry do need Undercurrent. I recommend it to all my students and travel clients.
Terry Garland , Naples Florida
While booking a dive trip to Grand Turk, I e-mailed several people whose comments were in the Chapbook. Everyone was enthusiastic about providing additional information, which allowed me to make an informed decision about where to stay. Chapbook is an invaluable resource.
Richard Trobeman, Seattle
I took a Blackbeard's Cruise in the Bahamas. Having read Undercurrent, I knew what to expect: tight quarters, your bunk is your closet, no privacy. Don't go if you're shy! Limited fresh water showers. Despite inconveniences, I loved every minute.
D. Lamb, Salt Lake City, UT
I have just recently resubscribed and your current issue confiirms my satisfaction in doing so.. It is most informative and interesting.
Sttan Watterman
When I received the initial order form, I was skeptical of your claim of unbiased reporting, yet that is exactly what I received. THANK YOU. What a breath of fresh air.
B. Raines, Charlotte, NY
Undercurrent has been very helpful assisting us in putting XXX out of business; the diving public now realizes that his organization was dishonest. The courts awarded us damages and legal expenses and served him with a summons so his assets can be seized and sold to pay our judgment for a trip we paid for and he never delivered. Thank you for your wonderful reporting.
Harry Hanes, Tombstone, AZ
I really enjoy your publication and religiously use the travel info to plan our vacations. It is the most reliable source of information I have found anywhere. Keep up the good work,
Steve Mason, Sault Ste. Marie, MI
Thank you, Ben! After only two issues, we are very impressed and of course are wondering why we waited so long to subscribe!
The Myers, Flint, MI
I want to thank you for your series on "Why Divers Die." I'm an instructor and I read most of these to my students and stress why and how most of these situations could be avoided. Your magazine is really appreciated in our household. Thanks for a great job!
G. Thomas, Seminole, FL
Thanks to Undercurrent notifying me of a half-price sale, we had the trip of a lifetime on the Pelagian. Never any ship or diving as spectacular as this.
P.J. Halter, Queensland, Australia
Your stories on safety, your explanation of diver accidents and deaths, and your health and travel recommendations are unique among dive publications. You've saved my bacon more than once.
A. Hardman, Providence, RI
Just a quick note to tell you what a fantastic issue Sept. was. I read it cover to cover in one sitting (ok, I admit, I didn't read the ENTIRE Belize report yet) but the rest of the issue was fascinating -- chock full of useful information that was extremely well-written and edited. Thanks again for an awesome issue.
Ellen Bedrosian
Having read and liked the reviews in the Chapbook, three of us went to the Turneffe Island Lodge. Our high expectations were met and surpassed! Diving was superb, sea life was plentiful. Dive staff manager assured we got maximum bottom time by diving multi-levels. Lodge very well run, food delicious.
Linda and Bill Lloyd,
Alexandria, VA
I just returned from a trip to hell at the Bayman Bay Club. I wish I had subscribed to Undercurrent before I booked the trip!
Judy Alexander
I recently turned 68 and still dive occasionally. I have been getting Undercurrent since the early eighties and still have all the issues here. It is great to read reviews without the bias of advertising and you have done a wonderful job over the years.
Roger Hale Topsfield, MA
We dove Ambergris Caye and were disappointed. The reef was all brown, lacking in the colors I remembered on other Caribbean dives...but we had not been subscribing to Undercurrent then (too cheap to pay the price). Now we will always subscribe to your newsletter.
The Grahams, Puyallup, WA.
Thanks for a great resource. In the nine years I've been diving I have never had a bad trip and I credit Undercurrent as the reason.
Bob Gerzoff
With 375 dives under my belt, I am very happy to be a subscriber to Undercurrent and like the truth about dive operations etc. with no advertising obligations or tiptoeing around to please them.
Dave Bridenbaugh
Your Undercurrent has set a standard and has kept dive resorts honest.Where would divers be without the watchful eye of Undercurrent and our subscribers? This is why I need to be a part of it!
Richard Wickenden, Plymouth, MA